Although we've already published a Winter First Birthday Ideas post and a Christmas First Birthday Ideas post, we thought we would go ahead and do a post specifically on planning a winter onederland birthday party, since it is such a cute and original first birthday theme it merits its own post. So read on for everything you need to know about planning a snow-filled, beautiful, and fun winter onederland first birthday party for your son or daughter.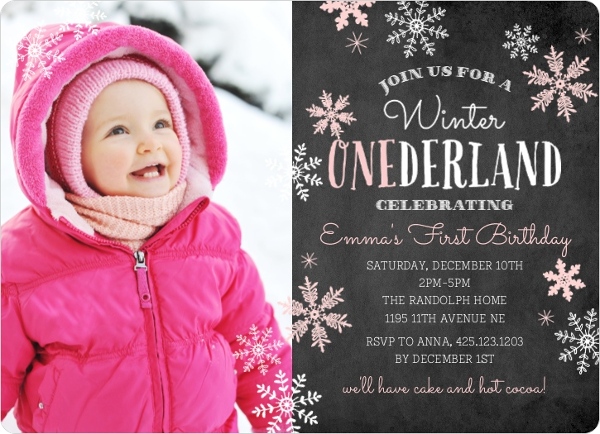 Winter Onederland Birthday: Invitations
Your winter onederland birthday invitations should not only fill guests in on when and where your party will be, but also introduce your theme.
To ensure your first birthday invitations do all of this, make sure to include the date, time, and location of your party along with a festive palette, whimsical fonts, and a winter-inspired design that conveys your winter onederland birthday theme to guests.
Beyond showcasing your theme and party details, you can also convey how formal or informal you party will be with the design, fonts, and layout of your first birthday invitations.
Since your first birthday celebration has such a unique theme, we recommend either designing your own invite from scratch or personalizing a winter first birthday invitation template on PurpleTrail.com.
They have an adorable collection of winter onederland birthday invitation templates to choose from and they also have amazing customization options, so you can create invitations that match your personal style and your party's unique theme perfectly.
Winter Onederland Birthday: Decorations
Fill your first birthday party venue with decor pieces that resonate thoughts of winter and snow. White table clothes, candles, garland, and lanterns are cheap and simple items that will add to your theme.
DIY paper snowflakes are another cheap decor piece that will add a ton of winter charm to your venue. Try making a bunch in advance. You can use them to decorate walls or tables.
You can even piece a number of them together to create cute snowflake garland that you can hang across a wall, table, or window. You can even hang short pieces of snowflake garland vertically from the ceiling so it looks as if it's fall from the sky.
Incorporating glitter into your winter onederland decorations will resonate thoughts of sparkling snow. Again, you can save money by going the DIY route. Learn how to make easy DIY glitter detailed candles here.
Pour a mixture of glitter and fake snow into the bottom of mason jars and add white candles for adorable table centerpieces that will sparkle and shine throughout your winter onederland birthday celebration.
Cover white Christmas lights with white cotton matting and hang them around a doorway or window. The fluffy matting will look like snow and give the Christmas lights a warm, soft glow.
Make your own DIY winter onederland banner out of white construction paper. Simply trace the letters onto paper, cut them out, and piece them together with white ribbon. You can purchase custom DIY signs on Etsy.com for your party too.
For more fun winter onederland birthday decorations, check out this Winter Onederland First Birthday Pinterest Board.
Winter Onederland Birthday: Food
Your food should not only taste good, but also add to your theme — or most of it should, anyway.
Winter classics like warm, savory soups and hot cocoa will make lovely additions to your spread, while white frosted cupcakes, snowflake shaped cookies, and white-chocolate covered strawberries will add winter flavor and color to your table.
Fill white dishes with fresh strawberries, cherries, and raspberries, so guests have a healthy item to snack on throughout your celebration. This Beet and Carrot salad is another healthy option that will add a lot of festive color to your spread.
Your first birthday cake should also correspond with your winter onederland theme.  Try finding a cake that is healthy for your baby and avoid any frosting or recipes that are high in sugar. Too much refined sugar is bad for your baby and it might even make them sick on their special day.
Instead, opt for a carrot cake or fruit based cake. You can find healthy first birthday cake recipes on Home-made-baby-food-recipes.com. They have a number of healthy recipes and a recipe for white frosting that will tie into your theme nicely.
Winter Onederland Birthday: Entertainment
There are plenty of ways to keep your guests entertained. Try renting a photo booth. Photo booths are always a hit and they can be enjoyed by guests young and old.
You can add to your theme by including winter-themed props in the photo booth. Items like top hats, Santa Hats, Santa Beards, and snowflake props will add a bit of winter fun to your guests' photos.
To entertain the little ones at your first birthday party, set individual bubble party favors at each young guest's table. Almost every kid will enjoy playing with them, especially the really young ones.
You can also set up a gingerbread house decorating station, if there will be a lot of young guests at your party. Kids will love decorating their own gingerbread house. They can take it home after your party too, and either hold on to it as a keepsake or enjoy munching on it later.
Winter Onederland Birthday: Favors
There are plenty of fun winter onederland birthday favors you can pass out to guests. From custom magnets and custom mugs to tiny snow globes and miniature stuffed polar bears, possibilities are endless.
Pick a favor you think your guests will enjoy holding onto. Practical favors are always nice and so are edible ones.
Only you can choose a favor that is perfect for your party, but we really like the idea of creating a custom mug for each guest or each family that is attending your winter onederland birthday.
We love this idea, because you can add photos of your baby and a sweet message to the mug, which will remind your guests of your child and his or her birthday.
Plus, the mug will serve a practical purpose, which your guests will surely appreciate. You can also tuck a small packet of hot cocoa into each mug to tie the mug into your winter onederland theme.
Hopefully you found these winter onederland birthday ideas helpful! Have fun planning for your child's first birthday party and make sure to explore the other posts on IdeasForFirstBirthdays.com for more fun birthday ideas and inspiration.
(Visited 5,618 times, 1 visits today)