Will your baby be arriving this winter? Plan a winter baby shower in his or her honor. With twinkling accessories, a hot cocoa bar, and holiday hues a winter baby shower can be lots of fun.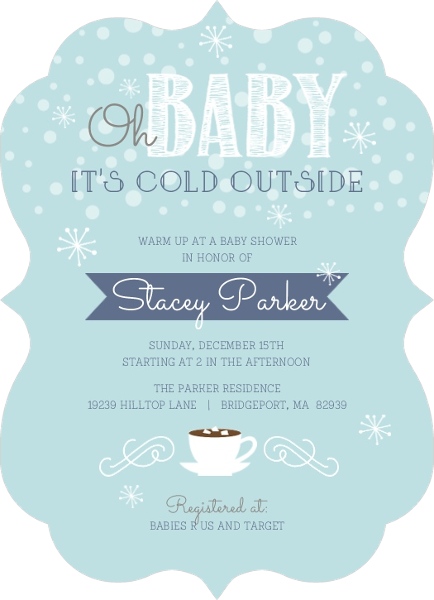 Winter Baby Shower Themes
Rather than simply making winter your baby shower's theme, consider narrowing things down a bit by selecting a more specific theme like winter wonderland, Christmas, or holiday cookies.
Winter Baby Shower Invitations
All great celebrations start with invitations, so you'll want to ensure yours not only include all of the necessary information for guests, but also introduce your winter baby shower theme to guests.
PurpleTrail.com has a number of adorable winter baby shower templates that you can use for your shower. If you'd rather make your own, you can do that too with their easy-to-use invitation maker.
Choose a winter palette for your baby shower, add frosty embellishments, and complete your winter baby shower invitation with cute wording, as shown on the winter baby shower invitation featured above.
Winter Baby Shower Decorations
Decorating for your winter baby shower should be lots of fun. If you've chosen a specific theme for your baby shower, try coordinating your decorations to it. Here are a few winter baby shower decoration ideas that will work for any kind of theme.
Paper Snowflakes: These are super easy to make and can add a lot of winter charm to your winter baby shower. You can simply stick them to the wall or you can string a number together to create DIY snowflake garland.  You can stretch the garland across a table, across the ceiling, or you can hang shorter strings of snowflakes from the ceiling so it looks as if they are falling from the sky.
White Flowers: Fill vases with fresh white flowers. Roses, carnations, and amaryllis are all great choices. They will add to your theme and fill your venue with a pleasant aroma as well. Check out ModPodgerRocksBlog.com for a DIY tutorial on how to make beautiful snowflake vases for your white flowers.
Sparkling Accessories: Add a little bit of sparkle to your baby shower venue with DIY glitter decorations. Glitter coated candles, decor sticks (like these), or glitter coated jars or vases will all resonate thoughts of sparkling snow. Like glitter, fake snow can also be used to spruce up ordinary decor pieces. Get creative! I'm sure you'll come up with something that's perfect for your winter baby shower!
Little Mittens: Hang baby mittens and socks on a long piece of string with clothes pins. This will look adorable stretched across a wall, hallway, or table. Plus it will double as a gift for the baby of honor.
Winter Baby Shower Food
Keep guests warm and cozy, while lifting spirits with a festive spread of comfort food. Hot cocoa, savory soups, and holiday favorites like cookies and candy canes will all work nicely for a winter baby shower.
Try setting up a hot cocoa bar at your winter baby shower. Prepare a few pots of hot cocoa ahead of time and keep them warm throughout your winter baby shower with hot plates. Set out dishes of marshmallows, candy cane sticks, caramel pieces, chocolate chips, and anything else you think would go well with hot cocoa.
Winter Baby Shower Games
Classic baby shower games can be played at your winter baby shower or you can put a winter or holiday twists on them to coordinate them to your theme. Check out our Unique Baby Shower Games article for a list of fun entertainment ideas.
You can also print out things like raffle tickets, bingo sheets, and trivia questions on stationery that matches your theme. Little additions like this will really add to your theme and leave guests impressed.
For a simple and fun means of entertainment, try gathering a list of trivia questions in advance. Old wives tales themed trivia is always fun for baby showers. Check out Plan-the-Perfect-Baby-Shower.com for a list of trivia questions and answers.
Winter Baby Shower Favors
There are so many fun winter themed baby shower favors you can pass out to guests. From custom magnets and custom mugs to tiny snow globes and Christmas cookie kits, possibilities are endless! Only you can choose a favor that's perfect for your party.
Try to choose something practical that guests can use and enjoy. We really like the idea of creating custom mugs on PurpleTrail.com for each of your guests. Then you can tuck a little hot cocoa package inside of each mug along with a short thank you note. This is a baby shower favor they can use again and again. And it goes along with your winter theme!
Hopefully you found these winter baby shower ideas helpful! Have fun planning for your baby shower! Check out HolidaysPartyIdeas.net for more winter party tips and inspiration!
(Visited 4,970 times, 1 visits today)