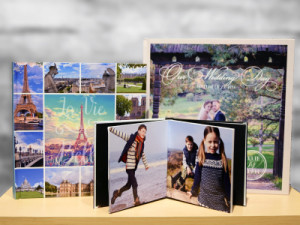 Have you ever noticed when attending a wedding that the guests tend to have some down time?  It can be at any of these times: while waiting for the cocktail hour to start, the dinner to start, to be served or be dismissed to the buffet line, to be served the cake, to wait for the toasts and speeches or for the dance to start. Not all guests will know all each other, so this would be a great idea to put on each of your tables or on your main guest book table area!
Create a photo book using numerous online resources or your local print shop or department store. In the photo book, highlight the following stories and pictures to go along with it:
Cover – your favorite picture of the bride and groom
Page 1 – baby pic of the groom and a paragraph about where he grew up and his childhood
Page 3 – baby pic of the bride and a paragraph about where she grew up and her childhood
Page 4 – How you met
Page 5 – Your first date/most memorable date
Page 6 – Bride's parents picture and a thank you message to them
Page 7 – Groom's parents picture and a thank you message to them
Page 8 through 10(or more) – Introduce your wedding party! Include a picture of each attendant and a paragraph telling your guests about them, how you know them and the quality you treasure most about them!
Page 11 – Wedding planning memories and pictures
Page 12 – What you're hoping for you wedding day
Page 13 – Snap a picture of you and your bride/groom hold a big THANK YOU sign and include a thoughtful message to all your guests for joining you on your special day!
If you need a guest book idea, definitely double this idea and use as the guest book too! Include blank or additional page and space for people to write!
Hope you like this idea! Happy Planning!
(Visited 163 times, 1 visits today)