The Super Bowl is more than an football game, it is an event. Even if you don't regularly watch football, you are very likely going to watch the Super Bowl. Send out sensational football party invitations for your Super Bowl viewing party. It's a great afternoon to huddle up on the couch, eat some tasty snacks and drink an ice cold beer. We've put together a few football party games ideas to enhance your afternoon of fun!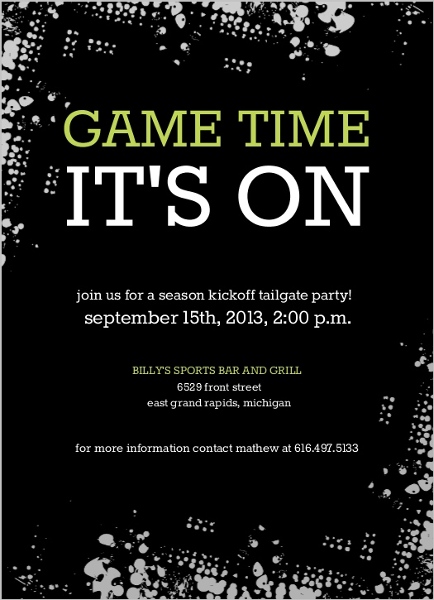 MVP
Write up the names of the key players in the game on both teams. Put the names in a hat and have everyone draw a name (or you could draw for an offensive and defensive player each if you don't have many bodies at your party). Have everyone put in a $1, $5, or $10 at the start of the game as well. If the player that they drew wins the Super Bowl MVP then they win the pot. If the MVP's name wasn't drawn you can either refund the money or choose another way to divide it up.
Keyword Drinking Game
A game for adults only. Before the start of the game you should make a list of about 10 words that you think you'll hear throughout the course of the game and assign a "drink value" to them. For instance, every time you hear the word "replay" you drink twice, the word "dynasty" you drink twice, "prediction" you drink once, and "touchdown" you drink once. Those are basic words, but if you want to up the degree of difficulty you could look for phrases like "felony assault", "wide right", "Super Bowl Shuffle". Do not attempt this game without designated drivers or a plan to get participants home safely.
The Pre-Game Football Game
Take that pregame energy and put together a quick scrimage between party goers. Get the excitement really pumping with a light game of two-hand touch. Not only will it get everyone excited for the game, you'll also gain perspective before you spend four hours criticizing every coaching maneuver and every dropped pass, by being reminded of how tricky a game it can be.
We hope you enjoy your afternoon of football and fun. Take a look at some football, snack ideas, to satisfy your hungry players.
(Visited 286 times, 1 visits today)