Thanksgiving celebrations are fun and enjoyable events. Especially for children. Little kids will remember a fun holiday celebration for years to come! Help make Turkey Day extra special for the kiddies in your life with a state-of-the-art Thanksgiving kids table.
A properly designed Thanksgiving kids table will keep the younglings entertained throughout a long turkey dinner. It will not only provide fun and entertainment for the kiddies, but the adults will definitely enjoy having more social and leisure time. Follow these great tips and tricks to organize the perfect Thanksgiving kids table.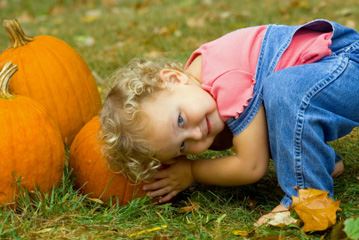 Tips for the Thanksgiving Kids Table
These cute and clever ideas work like a charm. Turn your Thanksgiving kids table into a work of art with plenty of activities to enjoy in addition to their food. The kids will love these activities. And your adult guests will appreciate all of the extra grown up time they'll have, while their kids are enjoying these fun and creative Thanksgiving kids table games.
1. Cover the Thanksgiving kids table with brown craft paper. Set out cups or boxes of crayons. Let the kids decorate the table before, during and after the meal! The brown craft paper "tablecloth" is not only fun for the kids, but avoids the stress of any spills, no staining your good linens.
2. Mark each child's place setting with a Lego Turkey. Lego stores carry these holiday items at the counter. If you cannot find the pre-packaged Lego Turkeys, put out assorted Legos and let the little ones design their own creations. This tip is only for age appropriate kids so there's no swallowing Legos at the table.
,
3. Host an "Art Auction." Invite the children to create some Thanksgiving artwork. The kids can color while the adults finish the meal ( kids are always done in half the time). Then have the adult guests bid on the masterpieces. Donate the proceeds from the auction to a pre-designated charity.
4. Prepare a stack of Thanksgiving themed coloring books for the children to play with after dinner. Place a few different cups filled with crayons and colored pencils in the center of the table. The kids will enjoy coloring in the books as the night winds down.
5. Try setting up a bunch of cookies and tubes of frosting for the kids to play with after dinner. They will love adding creative designs to their cookies! They will also enjoy eating the cookie. A fun and delicious after dinner activity.
For other ideas for keeping your little ones entertained on Thanksgiving, check out this blog post. We hope these ideas will help you provide a wonderful Thanksgiving kids table for your tiniest dinner guests!
By Dawn Sandomeno of  The Partybluprints Blog , The Real Girls Resource for Entertaining At Home!
(Visited 206 times, 1 visits today)