Fancying something a little bit formal and fabulous? Hosting a tea party is a great way to bring a little elegance and tradition into everyday life! Whether you're hosting a birthday party, a shower or just a small gathering of friends, you're sure to enjoy a nice tea party. Tea party fare is dainty and sophisticated, and our party experts have some really classy tea party ideas for your get together.
Tea Party Invitations
Always your best bet for parties with any theme, PurpleTrail has a collection of tea party invitations you're sure to love. Make sure to send your tea party invitations out three to six weeks before the big day to give your guests plenty of time to respond. Make sure to tell your guests to wear their "Sunday best" dresses and craziest hats… it really adds to the fun!
Tea Party Ideas – Decorations
Decorating for your tea party is a great opportunity to break out your fine china and fancy linens. Take out that lace tablecloth and those antique candlesticks and use your imagination. Think fancy, refined and fun! Place tea roses in vases for centerpieces. If you don't have a tea set, search antique shops and thrift stores for great finds. Sprinkle some rose petals on the table for an elegant look.
Of course, there's nothing wrong with going informal. If you don't have any fine china, buy pink paper cups and napkins and use a plain white tablecloth. It's all about presentation. Serve your food on trays or in baskets, and make sure every place setting looks nice, whether it's paper or fine china.
Tea Party Ideas – Menu
Tea party food is usually eaten with your fingers, so it should be bite sized and easy to eat.
Tea Sandwiches
A traditional tea party menu always starts with tea sandwiches. Here are a few of our favorite varieties:
Cucumber, cream cheese and watercress
Smoked salmon and cream cheese
Turkey and smoked Gouda with thinly sliced apple
Turkey, cream cheese and cranberry sauce
Cucumber and dill
Strawberry and cream cheese
Fresh tomato, basil and mozzarella
Ham, brie and apple
Asparagus and herbs
Prosciutto and fig
Beverages
Make sure to serve a variety of beverages to please all of your guests. Some popular choices and considerations include:
Tea types: black, green, white
Flavors: Breakfast, fruit, mint, orange spice
Caffeinated & decaf
Iced and hot
Garnishes and mix-ins: sugar, sugar-free alternatives, honey, milk or cream, lemons, fresh mint sprigs
Offer lemonade and/or coffee to non-tea drinkers
Desserts
No tea party is complete without its bite sized desserts. Here are some of our favorite tea party treats:
Serve these lovely treats on a 3-tiered serving plate. Your guests will love the simple elegance of the tea sandwiches and treats and may even walk away feeling a little more regal.
Check with your guests for allergies or diet restrictions (gluten-free, sugar-free, vegan) to make sure everyone can participate in enjoying delicious food and beverages.  
Tea Party Themes
A tea party is a theme party in itself but if you really want to go all out, here are some themed tea party ideas:
A Mad Hatter Tea Party
Tell your guests not to be late for a very important date: a Mad Hatter Tea Party! Decorate a long table in bold colors with an assortment of mismatched dishes and tea pots. Hang colorful paper lanterns above the table and make sure to have plenty of fresh flowers. Attach "Eat me" and "Drink me" tags to various dishes. Have everyone wear their craziest hats, and remind them "We're all mad here."
Bridal Shower Tea Party
A tea party is a perfect theme for a bridal shower. Mix and match your old an new decorations. Skip the traditional table linen and use assorted handkerchiefs in designs and palettes you're drawn to. Choose serving pieces and plates that naturally fit. Place small bouquets of flowers in vintage tea canisters. For favors, send guests home with a special assortment of tea.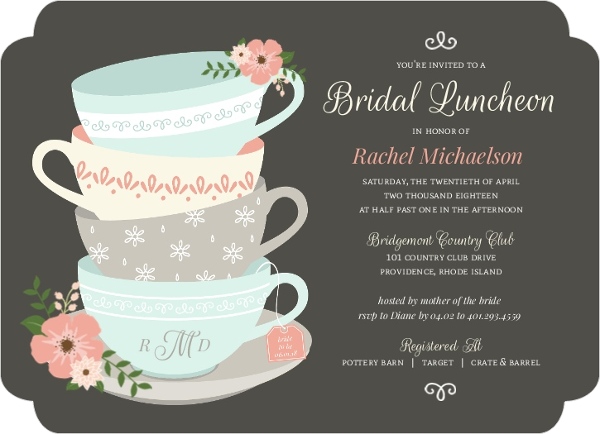 Princess Tea Party
A princess-themed tea party is fun for all ages but would be especially nice for a mother and daughter occasion. Think pink! Hang light pink tulle above the table, decorate with pink and white roses and serve pink lemonade. Make sure every princess gets a crown or a tiara!
Whether or not you choose a theme, your tea party is sure to be an elegant affair with these tips and ideas. We hope you enjoy your refined soiree! Check out PurpleTrail.com for more customizable tea party invitations.
(Visited 1,129 times, 1 visits today)