Who needs a holiday or a birthday to have a sleepover? Plan a fabulous slumber party this summer and have some fun. It all starts with slumber party invitations. Once you've set the tone for the slumber party with the sleepover invites, you can plan all the fun things to do and eat! Esther from our design team put together a dazzling pink summer slumber party inspiration board to help you plan your slumber party!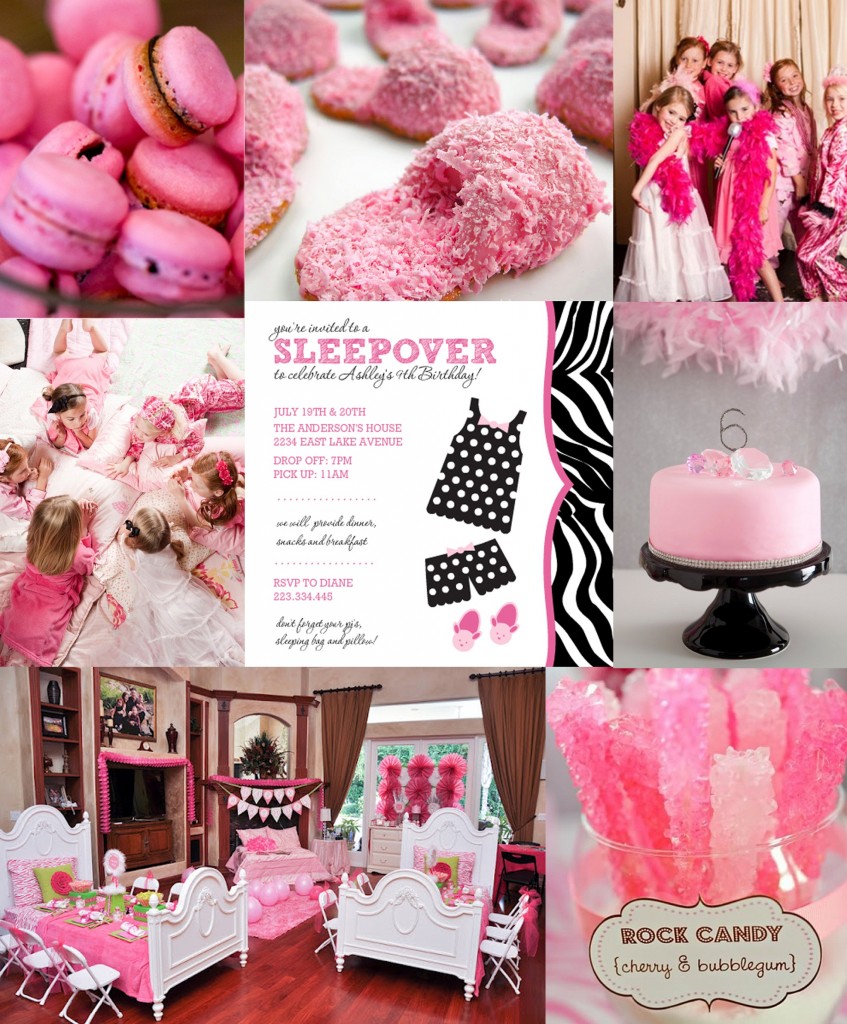 Set the Scene
Send out the slumber party invitations three weeks in advance. Be sure list anything you want guests to bring as well as clear drop off and pick up time. The PurpleTrail invitation shown above has a wild zebra print paired with hot pink, suggesting a fun filled girlie night! If this is combined as a birthday party celebration, you can always let your guests know via custom girl's birthday party invitations.

Decorations
Carry the color theme of your invites into your decorations. Pink banners and crepe paper decor can be hung on walls and windows. Pink balloons floating freely in the room give a playful feel. Pink boas for each guest brings a stylish touch. Zebra print plates or napkins will tie everything together. Make a creative eating space like the one shown here! If you don't want to move your beds into the living room try a blow up mattress dressed up with pink linens and pillows.
You can create your own pink garland using basic construction paper, string or ribbon, glue, and scissors. This will make for a fun activity you and your child can do together before the big party. To find out what to do next, take a look at this Shoes-off-please.com paper garland tutorial. When you finish creating your garland, use it to adorn a plain wall or ceiling.
Food
Before the days of extreme dietary consciousness, slumber parties were usually an opportunity for a junk food fest. But as we are older and wiser, we know that's probably not the best course to lead our kids on. Mix in a few healthy options along with some sweet options. Make your own rock candy or these cute pink coconut slipper cookies or even these mini pink macaroons. Popcorn, apple chips, granola,  fruit yogurt parfaits, and build your personal pizzas, are all great choices. Don't forget to plan breakfast! Pancakes are always a hit after a night of fun.
Activities
Depending on the age of the kids, you may or may not need a structured activity or two. Older kids may just want to be left alone to, swap clothes, cosmetics, and stories. A karaoke game may appeal to all ages. Set up a stage area and let the ladies preform their favorite songs. If you don't have a karaoke game or machine, use a your iPod or CD player and just play the songs for the kids to sing to!
If your child enjoys arts and crafts, set up a fun art station for the sleepover. Your craft options are limitless, but I highly recommend including a pink bath salts craft activity in your sleepover party itinerary. This is a great project, because the color fits the theme and the girls will have a practical keepsake of your party. I found great instruction for this project on Familycrafts.about.com. The project only takes thirty minutes. Check out their website for more instructions and information.
Movies
Watching a good movie is a classic slumber party activity. This is a great thing for the girls to do later in the night, right before bed. After the girl's sleeping situation is organized, they can sit back and relax while watching a good movie. Check out Imdb.com or PurpleTrail's Slumber Party Movies article for great movie suggestions and ideas.
Slumber Party Photobooth
Photobooths make great additions to slumber parties. They are fun, entertaining, and they'll create a sweet token for your guests to hold onto. Try setting up a DIY photobooth following the instructions listed in this Ultimate Wedding DIY Photobooth Tutorial article. Or if you are interested in preparing something a little more low key, gather together some funny props and a Polaroid or digital camera. The girls can snap pictures and share them online. If you have a printer, purchase some photo paper and print the photos at home. Or you can always have them printed professionally and pass them out to the guests at a later date. Either way, the girls will love receiving a photo to hold as a memento of the party.
Sleeping Space
Make sure you create a sleeping space that adequately fits all the guests. You don't want one child stuck in a corner somewhere feeling isolated from the group. Try and make it so everyone's head is facing the middle. Also, encourage girls to set a pact that what happens at the sleepover, stays at the sleepover. That way secrets shared don't find their way to ears that weren't meant to hear them.
Have fun at your slumber party! It's a great way to build memories and friendships!
Images from:, karaspartyideas.com, onecharmingparty.com, hungryhappenings.com
(Visited 2,656 times, 1 visits today)