Summertime is full of social gatherings from, birthdays to weddings, there always seem to be a reason to celebrate. With long days and warm nights, you'll be looking for some new and creative ways to entertain this season. Our party experts came up with some fantastic summer party themes.
Gardening Party
This is could be fun for the whole family. Provide terra cotta pots for everyone and set up planting stations. You can provide inexpensive plants like petunias or pansies or ask everyone to bring a few plants to share. Provide potting soil and a few gardening tools for everyone to use. You can set up a kids station and let them paint the pots or do their own planting.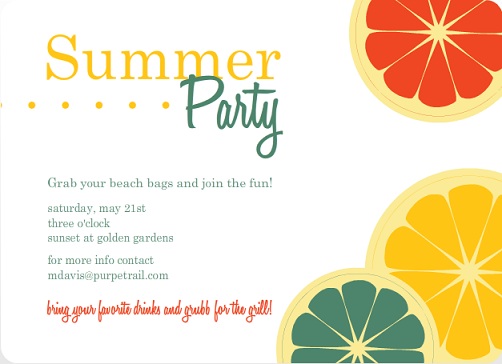 Christmas in July
Why not bring the holiday spirit right into summer? Hang red and green lights on the deck and decorate the trees with ornaments. Pipe in some Christmas music to set the mood! Hand out stockings filled with summer inspired things like inflatable beach balls and sunscreen. You can even serve Christmas cookies and all the traditional Christmas fare. Grill up chicken and brush with a cranberry marinade.
Beach or Pool Party
Even if you don't live on the beach or have a pool, you can still have a pool or beach party in your backyard. Bring out the kiddie pool and sandbox. Cut out surf boards from cardboard and stick them in the ground. Play fun 60's beach music and tell everyone to take their shoes off! Blow up plenty of beach balls to bounce around and consider setting up a volleyball set if you have one.
Vineyard Delight
Set up a beautiful table in the shade of a tree. Play relaxing music and serve good cheese and fruit to compliment your wine selection. Incorporate a wine tasting game and encourage your guests to bring along their favorite vintage.
Barnyard Party
Set up the house and yard to feel like a barnyard dance. You can get a, few hay bales, from a feed store and spread it around the yard. Ask your guests to come in their best country attire. Play square dance songs reserve an area just for dancing. Incorporate some fun games like a pie eating contest or a potato sack race. Serve up some fried chicken and grilled corn on the cob. Finish the evening with some fresh baked apple pie!
Have a fabulous summer! Hosting, a BBQ this season? Check out our great grilling ideas.
(Visited 985 times, 1 visits today)