Throw your child a celebration they'll never forget using 1 of these 5 summer birthday party ideas.
Camp Out, Camping Birthday Party Ideas For Kids
If your child loves being outdoors, a camp themed birthday party will be right up their alley. Beyond being lots of fun, this green birthday theme offers a variety of benefits.
It will give you a chance to teach the kids a few things about the environment. You'll also be setting up outside — which means you won't have to splurge on an expensive venue and the kids will have plenty of space to play and explore, while enjoying the warm summer sunshine.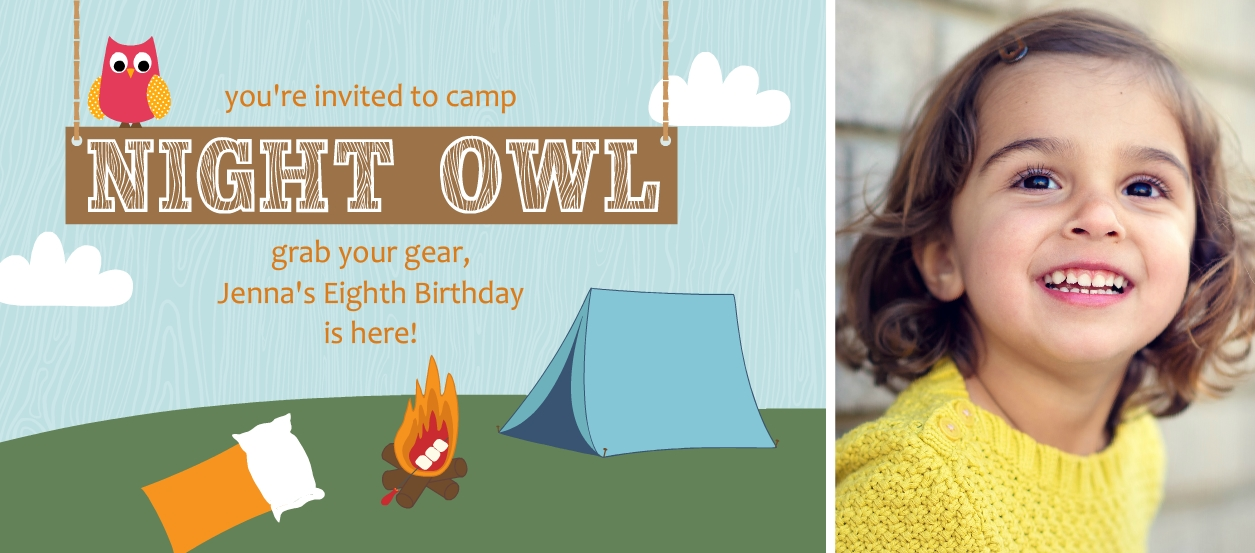 Introduce your theme to friends and family with outdoorsy birthday invitations. If you can't find one that suits your theme, consider designing custom birthday invitations from scratch with your child. They will love adding personal touches, their favorite colors, and more,  to their birthday invites. And, I'm sure they will enjoy showing off their creative designs to all of their birthday party guests too.
Host the summer birthday bash at your child's favorite campsite or in the comfort of your backyard. Ensure there are plenty of seats and tables for guests.  Add color and festive flair to your venue with colorful streamers, banners, and bunting.
Shade and shelter are also important, in case it rains or there's a lot of sun. If you're camping until dark or through the night, ensure your site is well lit with strings of lights, lanterns, or tiki touches.
If you're hosting a slumber party, ask the guests to bring a tent. Pass out camp themed party favors, like flashlights, smore kits, or bandannas. Prepare smores, firewood, and a few good stories to tell around the campfire.
Tea Party Birthday Party Ideas For Kids
Whether your kid loves Alice in Wonderland or your little lady is leaning towards a fancy affair — a birthday tea party will be sure to pique their interests. Introduce your summer celebration's theme with birthday tea party invitations.
Equip your venue with plenty of seating and tables. Since tea parties usually lean towards the fancy side,  try avoiding things that look cheap. If you have a spare wooden table somewhere, drag it out for the birthday tea party. Does it have matching wooden chairs? They'll make perfect additions to the table. Add a bit of color to the set with bright place mats, colorful cushions, and floral centerpieces.
Pick up a tea set and a few tea pots from a nearby thrift store. You can use the tea cups for beverages or fill them with delicious treats. Any of these 10 simple desserts in a cup will do.
If your kid's birthday party will go till dusk, light up your venue with lanterns, strings of lights, and candles. Pass out tea party themed favors, like umbrellas, fancy hats, and tea cookies.
Luau Birthday Party Ideas For Kids
Introduce your kids to Hawaiian culture with a luau themed birthday bash. Start by sending friends and family luau themed birthday party invitations.
Then prepare food and favors. You can serve whatever you like, but for a more authentic luau birthday — consider incorporating a few Hawaiian dishes into your spread.
Although most kids don't enjoy trying new foods, sweet Hawaiian dishes like Haupia (a delicious Hawaiian coconut-based, gelatin-like dessert) will be hard for even the most picky to resist.
Otherwise, you can't go wrong serving classic summer barbecue and shaved ice for dessert.
As for favors, pass out colorful leis and chocolate covered macadamia nuts. If you're feeling generous, purchase cheap ukuleles (you can find some online for under $20) for each guest — and show them a few different chords and strumming techniques during the celebration.
Have a playlist of Hawaiian music on hand and get guests moving by encouraging them to hula. Maybe you can teach them a few moves — or give your guests a taste of real Hawaiian culture by hiring professional hula dancers or Hawaiian musicians to perform at your celebration. (Check out GigMaster.com for a listing or dancers and musicians in your area).
For further entertainment, prepare a stick for limbo and setup a bowling stationery — using water bottles as pins and real coconuts as bowling balls.  
Safari Birthday Party Ideas For Kids
The most wildest of summer birthday party ideas, a safari themed affair will be sure to capture any animal-loving tykes attention.
Gather guests with safari themed birthday invitations from PurpleTrail. We offer a grand selection, all of which are fully customizable.
After your invitations are in order, you can start hunting for the perfect safari birthday party favor. Safari hats, binoculars, and animal masks will suit this adventurous theme well, but passing out classic adventure tales, such as The Jungle Book or Curious George will leave guests with a gift they can enjoy again and again.
Serve birthday cake, fresh fruit, peanuts, and snake sandwiches. For entertainment, organize a scavenger hunt and jungle/safari trivia. Check out this catch a tiger by the tail tutorial to learn how to play this fun game and create tiger tails from socks.
Beach Party Birthday Ideas For Kids
From building sand castles to sun bathing, swimming, and collecting seashells, there's plenty of fun to be had at a beach themed summer birthday party.
Kick start your celebration with beach themed birthday party invitations. Anything with nautical accents will do. For a more interesting invite, and overall celebration, consider throwing pirates, sailboats, or mermaids into the the mix.
Setup seating, tables, and an open tent at your kid's favorite beach — preferable one with bathrooms nearby. Serve crabby sandwiches, starfish smores, and fish and sand cups along with beach themed birthday cake.
For entertainment, try playing this seashell memory game, or try a few of these 10 Best Beach Games.
Share Your Summer Birthday Party Ideas
Hopefully these summer birthday party ideas help you organize a celebration your child will love and look back on for years to come!
If there are any summer birthday party ideas we missed, please let us know via the comment section below. Happy party planning and best of luck with your kid's birthday party!
(Visited 904 times, 1 visits today)