Did you love Strawberry Shortcake when you were a child? I did, especially her strawberry-scented red hair! Those little dolls were the best to play with. Today, Strawberry Shortcake and her friends are still favorite characters and a berry perfect way to inspire a party that is sure to be berry fun! If your daughter loves her too, find great Strawberry Shortcake party ideas below to pull your party together.

Strawberry Shortcake Invitations
If you are interested in something fancy that can be hand-delivered to your guests, head to your local craft store and purchase simple straw hats that you decorate with fabric strawberries and pink and red ribbon. Inside the hats, ask your guests to attend your Strawberry Shortcake Party for a Berry Great Girl! Make sure to request that your guests wear their straw hats to your party.
Strawberrry Shortcake Decorations
For this party, its all about pink, red, and white for your color scheme. Balloons, streamers, confetti, and tulle to make the room and party chairs fancy are all appropriate to make this party extra sweet
Make your balloons look like strawberries by blowing up red balloons and drawing black seeds all over each one. Bunch these around the front door to the party or scatter around the party yard (with weights attached) to make a strawberry field.
On the front door, hang a banner that says "Welcome to Strawberryland!". Also add colorful balloons to your entry area to attract your guests attention.
Dont forget the strawberries. Cut out large strawberries from red construction paper and decorate your front door with them, hang them with fishing line from the ceiling, place them on the backs of the party chairs, and have a strawberry path leading to your front door.
Play Strawberry Shortcake music throughout your party. For a table centerpiece, gather up your child's Strawberry Shortcake dolls (or maybe you still have yours) and place them in the center of the table. These sweet Strawberry Shortcake ideas will really make your party a hit.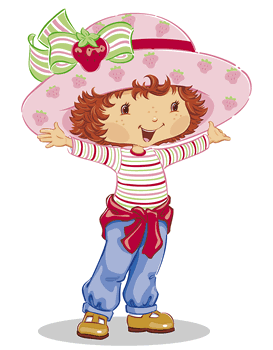 Strawberry Shortcake – Game and Activities
For your celebration, you'll need to entertain the kids with games and activities. Here are some ideas that your kids will love! You can make small changes to the following suggestions to fit your child's interests and age group. Have fun!
When the kids arrive to the party, have a face painter paint strawberries on their faces.
Hand out strawberry scratch-n-sniff stickers for the kids to wear during the party or place on one another.
Play Strawberry, Strawberry Shortcake.
Play Pin the Seed on the Strawberry.
Hold a Strawberry Scavenger Hunt. Fill small bags with small strawberry favors, such as strawberry candies, strawberry stickers, lip balms, etc. Give the kids a designated amount of time to search out all of the strawberries. The goodies they find they can take home with them.
Hold a Strawberry Relay Race. Divide the kids into two teams and provide each team with a bowl of strawberries. The kids must carry the strawberries with a large spoon to the other side of the relay race and fill the empty bowl at the other end with the strawberries. They cant drop their strawberries, or they must begin again. The first team done wins.
During your party, serve Strawberry Shortcake. Provide recipe cards with a strawberry shortcake recipe and together have the guests make their own with biscuits, strawberries, and whipped cream. They may want to add more toppings to their shortcakes so have a few other options available too.
Strawberry Shortcake Party Favors
Using plastic sundae dishes, write the names of your guests on them with paint pens and then fill with strawberry goodies, either real strawberries or strawberry gummies or other strawberry candies. These dishes will make perfect take home gifts that your guests can use again later and keep as a reminder of your special party. We hope these Strawberry Shortcake party ideas make your little one's party fun and memorable!
Enjoy Your Celebration
We hope these party suggestion inspire you to throw a super fun and special birthday party! Good luck creating a birthday celebration that your child will remember for years to come. Remember to have fun and be creative while planning your party. For more great Strawberry Shortcake party ideas, take a look at karaspartyideas.com.
Article Submitted by Lisa Kothari
Lisa Kothari is the Founder and President of Peppers and Pollywogs, a kids' party planning company. Visit our experts page to read more about Lisa Kothari and our party planning experts.
(Visited 834 times, 1 visits today)