Whether you're celebrating a birthday, summer, or just because, you can use these creative slumber party ideas and sleepover party ideas to organize a magical night of fort building, crafts, and treats your son or daughter will never forget.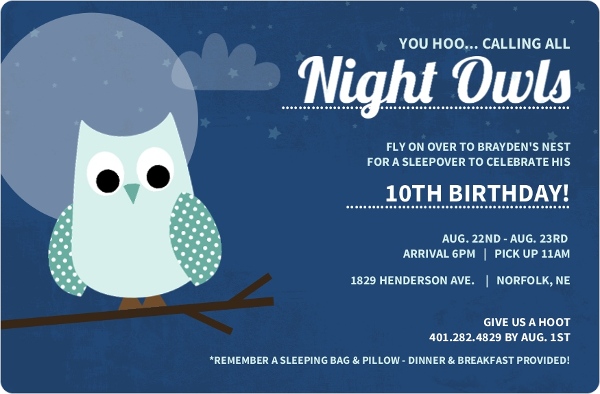 Slumber Party Ideas: Fort Making
From no-sew teepees to epic blanket forts, you have a ton of options when it comes to creating cozy nooks for your child and guests to play in at your slumber party.
Check out BuiltByKids.com for a list of 50 creative DIY forts and LifeAsMama.com for tutorials on making a variety of fun forts, that range from simple sheet forts to whimsical canopy forts and everything in between.
After the fort is built, help your child decorate it with strings of lights, colorful bunting, and other creative decorations that will add color and whimsy to their hideaway.
Slumber Party Ideas: DIY Star Projector
Forts are lots of fun and can create a whimsical setting for your kids to play in at their slumber party, but if you want to add even more magic to your child's slumber party, try creating a fun DIY star projector.
You can turn it on as your child and guests watch movies or fall asleep. The star projector will light up your party space with speckles of lights that are bound to impress your child and his or her guests.
It will look especially cool inside of a fort or tent, as shown in the photo below. Learn how to make your own star projector on Instructables.com.
If you'd rather not take time to build one, you can also buy one for your kid's slumber party online for a reasonable price.
When fort building and decorating with lights, always remember to put your child's safety first. Don't leave lights on in the fort for too long and don't use the star projector or strings of lights if you think they may be a fire hazard.
Slumber Party Ideas: Camping
Camping slumber parties are a great way to celebrate with kids outdoors. Set up a tent or two in your backyard for your kid's slumber party. If you have a fire pit, light it up at dusk and make smores, hot dogs, and pudgey pies with the kids.
Set up a telescope and pass out binoculars to kids at night and help them find constellations in the sky. Plan a few outdoor activities or scavenger hunts for guests to enjoy in the afternoon.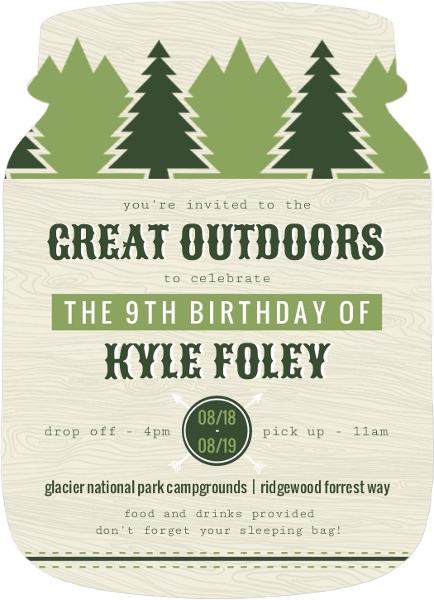 Slumber Party Ideas: Make 3D Cardboard Boats
This craft project is simple, fun, and affordable. Kids will enjoy making the cardboard boats and love playing with them afterwards. Plus, they will learn a few things, with measuring and construction is involved. Find the tutorial on IkatBag.com.
Slumber Party Ideas: Movie Party, DIY Projector
Prepare a lineup of your child's favorite movies to play at their slumber party. Gather guests with movie night invitations from PurpleTrail and decorate your party space with these DIY star lights courtesy of DIYReady.com.
Complete your movie themed slumber party with concession-stand-inspired snacks like popcorn, candy, and soda. If you don't have a big TV, try following this tutorial to make your own $3 movie projector using your smart phone.
Slumber Party Ideas: DIY Pillows
There are a ton of fun, simple ways you and slumber party guests can make your own pillows, one of the easiest being with fabric, fabric glue, and pillow stuffing.
You can pre-cut the fabric for guests, into rectangles, circles, or whatever shape you'd like your pillows to be.
When guests arrive and are ready to make their pillow, give each guests two pieces of fabric and show them how to glue the edges together with the fabric glue.
Leave one small section open, so you can add stuffing later. Let the fabric dry for about an hour — you can also place something heavy on top, to ensure the edges stick securely.
Then turn the pillowcase inside out and show your guests how to add the pillow stuffing. After enough filling is added, simply tuck the edges of the open section inwards and glue them together to lock the stuffing inside.
Let the pillows dry for about 30 – 45 minutes and give them to guests to use  at bedtime. Learn how to make a super cute DIY donut pillow on LittleInspriation.com.
Slumber Party Ideas: DIY T-Shirts
Purchase freezer paper, a craft knife, fabric paint, foam brushes, and a bunch of plain white T-shirts for your child and their slumber party guests.
Have guests include their sizes on the RSVP or you can simply ask them to bring their own shirts to the slumber party. Prepare a variety of stencils, using freezer paper and a craft knife, for kids to use to decorate their shirts.
Sketch whatever you'd like to turn into a stencil on a piece of freezer paper. You can make animals, mythical beasts, or simple shapes you think you guests would like to add to their T-shirts. Then use a craft knife to cut out the shapes.
Lay the stencils out along with the fabric paint, paint brushes, and T-shirts. Give instructions on how to apply the paint and let your guests design their own T-shirt using their choice of stencils and paint.
Find additional instructions on making your own T-shirts on Catherine-Kiffvozza.SquareSpace.com.
Slumber Party Ideas: DIY Bracelets, Key Chains
Jewelry making is a great slumber party craft. Guests will enjoy learning how to do something new and love taking home a keepsake of your celebration. The type of jewelry making you do at your slumber party will depend on your guests' age and gender.
For very young guests, choose something simple, like beaded bracelets or key chains. For older tween guests, try making these trendy, cute DIY metal name bracelets.
Show your guests how to manipulate the wire with pliers to form letters. After showing them how it's done, have them use the wire to form their names.
Use a hammer to hammer down the metal when they are done. Then show the guests how to attach their metal name pieces to jewelry chains with lobster clasps.
Use wire cutters to shorten the chain to fit your guests' wrists. To simplify things, you can also have guests make simple bows instead of spelling out their names.
For more detailed instructions on this slumber party idea, visit StarsAndSunshine.com. For a boy's slumber party, make key chains instead of bracelets by attaching the metal name to key chains instead.
Slumber Party Ideas: DIY Crowns, Wings, Hats
If your slumber party will consist of younger guests, they may like the idea of making their own costumes or accessories. This idea will also work well if your slumber party has a fun theme, like princess slumber party or dinosaur slumber party.
Gather all of the materials your child and guests will need to make something fun they can wear throughout the slumber party. Learn how to make butterfly or dragon wings, royal crowns, floral crowns, or dinosaur hats by following the links provided.
Slumber Party Ideas: Photo Booth
Make your own photo booth for your child's slumber party, complete with cute props, such as hats, glasses, boas, and paper cutouts. Your child and guests will enjoy having their photos snapped together.
Plus, they will have a fun keepsake that they can take home and remember your slumber party by. Learn how to make your own photo booth on ThePinningMama.com.
Make Your Own Slumber Party Invitations
After finding fun crafts and activities for your kid's slumber party, you will need to find the perfect slumber party invitations.
There's no better way to find invitations that match your child's taste and celebration perfectly than making your own slumber party invitations online, complete with your choice of colors, photos, accents, and more.
You can make your own invitations on PurpleTrail.com. All of the slumber party invitation templates featured here can be personalized, along with hundreds of other stylish invitation templates for kids' parties.
Slumber Party Invitation Wording Ideas
After you find the perfect slumber party invitations for your child's special day, use the slumber party invitation wording ideas below for tips on what to include and how to phrase your invites.
You're invited to join
Stacy and friends
for crafts, treats, and fort building at a
Summer Slumber Sleepover Party
Friday, April 10th to Saturday, April 11th
Please arrive at noon on Friday.
Pick up will be at 10:00 am Saturday morning.
Bring your pajamas and pillow.
**************************
Pack your pajamas, grab your pillow,
and join in the fun at Jacob's campout sleepover party
to celebrate summer under the stars with
scavenger hunts, campfire food, and other outdoor activities.
July 20th though July 21st
Drop off: July 20th at 3:00 pm
Pick up: July 21st at noon
Hope you can make it!
Hopefully you found these slumber party ideas inspiring!
(Visited 5,582 times, 1 visits today)