Will you be embracing your high school graduation with a senior photo shoot? Make your photos great with these fun and creative senior photo ideas to feature on your photo graduation announcement or custom graduation invitation.
We've compiled a list of 8 fun and creative senior photo ideas that will help you capture this special occasion in a way that's uniquely you!
Before we get started, here are a few tips you can use to ensure you look your best in your senior photos.
Looking Your Best
There are few simple things you can do to make sure you'll love the way you look in your senior photos. Start by getting a haircut or have a hairdresser help you style your hair the day of your photo shoot.
Then pick out an outfit you love, aim for colors that flatter your skin and eyes. Finally, page through photo albums on Facebook or at home to get a feel for which poses and angles flatter you best.
Bring a few of your favorite photos with you to the shoot, along with a few of your most dreaded shots. These photos will give the photographer an idea of what you're looking for.
1) Senior Photo Ideas: Timeline
If you'll be taking senior photos, chances are you'll also be sending out graduation announcements  and graduation invitations
If this is the case, consider sending friends and family a multi-photo announcement or invite that features a few of your favorite senior photos alongside a few photos of you as a youngster.
Friends and family will be sure to adore your timeline photo card and treasure it for years to come!
2) Senior Photo Ideas: Symbolic Settings & Props
Graduating from high school is a major life accomplishment. It marks the end to an important period in young peoples lives and the start of a new beginning.
Try including this concept of change in your senior photos with settings that symbolize progress, your future plans, or the time you spent at school. Here are few symbolic setting ideas you can use to get started.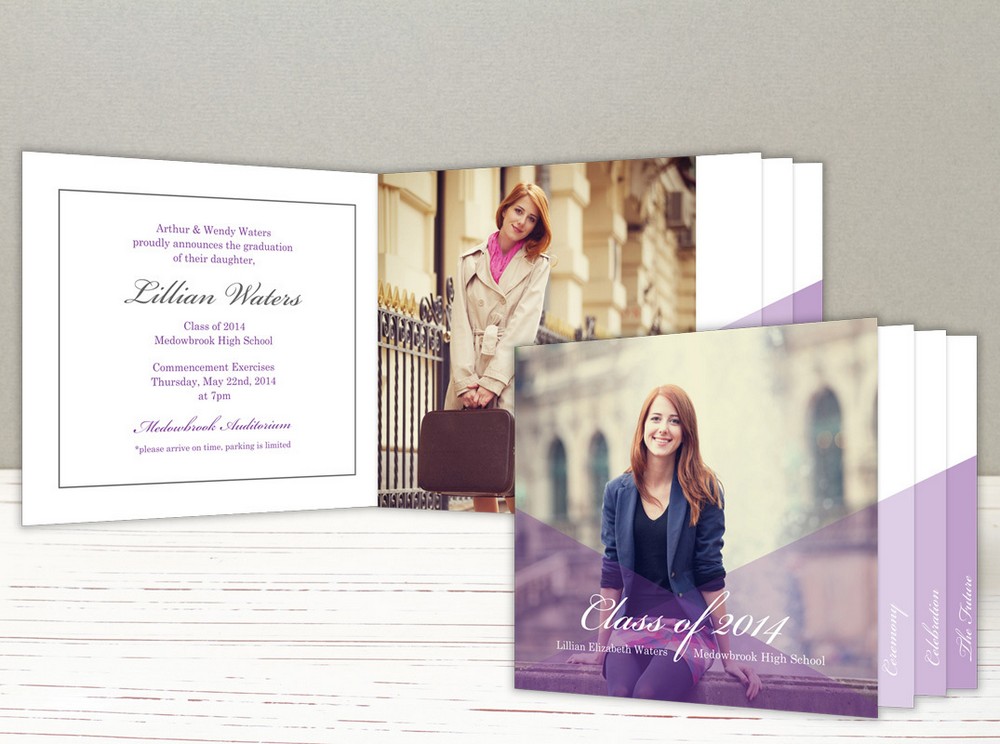 Train Tracks: Train tracks are a common metaphor for progress, strength, and life. Including them in the background will be sure to add depth and meaning to your senior photos.
Suitcases: Whether you'll be attending college out of state or you'd simply like to highlight on the fact that you're "moving on" — you can do so by including a few pieces of luggage in your senior photos.
3) Senior Photo Ideas: At School
What could be more appropriate than this senior photo idea? Consider snapping a few photos at your favorite place on campus.
The library, football field, or art or music room are all great spots that will help you remember this special location and the memories you created there for years to come.
4) Senior Photo Ideas: Hobbies
Whether you're a musician, cheerleader, quarterback, or artist — including your hobby or passion in your senior photo will  help make your photos unique and a true reflection of your personality and interests.
If you love horseback riding, try snapping your senior photos with your horse or in your equestrian gear. If you love guitar, have your photos taken while playing your beloved instrument.
It will be fun to look back on your photos to see what you were interested in as a young man or woman and how much your interests have changed (or stayed the same) over time.
5) Senior Photo Ideas: Alternate Tones, Filters, & Lenses
Give your senior photos artistic flair with alternate tones, filters, and lenses. Have your photographer snap a few black and white shots and maybe experiment with different lenses, filters, and extreme angles. Doing so will give your photos just enough distinct flavor to set them apart from the rest.
Although you may not want to snap all of your photos this way, including a few in your senior photo spread will add depth and creativity. Check out the fun photography ideas below for more inspiration.
Black and White: Although photos filled with bright colors may be more lively, simple black and white snapshots will let your senior photos speak for themselves. They will also convey a sense of seriousness — which is perfect for a milestone accomplishment like graduation.
Antique Filter: Give your senior photos a bit of old-time charm with an antique filter. Your photographer can add a fun faded effect to your photos in photoshop to give them an aged or retro appearance.
Fisheye Lens: A fisheye lens will give your photos an interesting warped appearance.
Bokeh: Bokeh comes from the Japanese word boke, which means "blur" or "haze." Bokeh is a photography technique in which the background of the photo can be manipulated and blurred by using a fast lens, at the widest aperture. This photo technique works especially well with background light, which with bokeh becomes blurry or altered into a specific shape.
6) Senior Photo Ideas: Signs
There couldn't be a simpler way to spruce up your senior photos than with a fun DIY sign. Are you taking your senior photos at the beach? Try writing a short message or the year in the sand for a fun and creative photo backdrop.
Chalkboard signs are another option and will go with any setting — whether you're taking photos indoors or out.
Speaking of chalk, here's another fun senior photo idea: Draw a colorful mural or prop (such as wings, a crown, or a hat) on a wall.
Have the photographer snap your photo in front of it for a super creative senior snapshot!
7) Senior Photo Ideas: Props
Props will add color, depth, and creativity to your photos. Simple items like: balloons, bubbles, flowers, sports equipment, instruments, and so on — can all be used to lighten up your photos.
8) Senior Photo Ideas: Pets
If you're all about your pet, try including them in your senior photo. Not only will they add an element of cuteness to your snapshot, but you'll also end up with a professional photo of your pet that you can treasure forever.
9) Senior Photo Ideas: Poses
Finding the right pose can make all the difference in your senior photos! Your senior photo pose should not only look natural, but also flattering. Use these senior photo ideas to find the perfect senior photo pose.
Try to avoid keeping your hands straight down by your sides. This will not flatter your body and it will make you look stiff and it can even make your arms look bigger than they actually are. Try placing your hand on your hip, a nearby wall, overhead, or in your pockets.
The same goes for your legs. Try keeping a slight bend in your legs so you don't appear rigged. Try leaning to one side or you can also rest against a wall. Sitting on something, crossing your legs, or leaning against a wall can also help. You can even try capturing a few snapshots of your lying in the grass.
Good Luck!
Best of luck with your senior photos! Hopefully these senior photo ideas give you the inspiration you need to capture this special time in your life forever!
For more fun photo ideas, take a look at our 5 Easy DIY Backdrops article. And if you're in search of a superb Seattle photographer, check out Preferred Photographers' Page.
(Visited 2,900 times, 1 visits today)