The holiday season is once again upon us. If you're in charge of your office holiday party this year, you've likely already started to plan a fabulous bash. Bring new life to the old office party this holiday season by sending out personalized  office holiday party invitations to your exciting event. If you're stumped on what to say in your invitation, these office holiday party invitation wording ideas will help you find the right words.
Business Holiday Party Invitations
From cute and casual to stunning and sophisticated, PurpleTrail has a large collection of office holiday party invitations to select from. Set the tone of your office holiday party with one of our customizable designs.
Office Holiday Party Invitation Wording
Please join us for our
annual Holiday Bash!
**********
You are invited to attend
the after-hours
Holiday Cocktails Buffet!
**********
Please join us
as we celebrate the season
with a festive Holiday Party!
**********
We hold you dear
so come for some cheer,
dinner and dancing too!
**********
Brrrr…
Come to our annual
employee, friends and family
hot cocoa party!
**********
Ho, ho, ho
come in from the snow
and join us for some
holiday frivolity!
**********
Christmas time is here again.
Merriment and laughter will soon begin.
Don't toss this invite in a pile of junk…you could miss seeing your boss get drunk!
So bring a gift wrapped with a bow.
Who knows who'll you'll find under the mistletoe.
**********
Take the night off and come to work!
Join us for this year's, Holiday Party!
A night, filled with good food, friends and merriment!
**********
Let's jingle and mingle all night long at the 5th annual Anderson Group Christmas party. Dress to impress and look your best for a company photo and the festive celebration to follow.
**********
Since we all work so hard all year,
let's get together for some Christmas cheer!
You're invited to the annual office holiday party.
**********
Please join us for a
festive holiday dinner party
celebrating this joyous season.
**********
The punch has been spiked and the halls have been decked
for a holiday party you'll never forget!
**********
Please join us for an
evening of merriment at our
Annual Holiday Party
**********
Jingle, Jangle, Jingle
It's time for us to mix and mingle.
Join us for some holiday cheer
As Christmas Day soon will be here!
Announcing our company holiday party…
**********
Let the warmth of friendship 
take the chill from the air, 
and the spirit of the season 
make winter easier to bear.
Please join us for our annual office holiday party.
**********
We'll pop the champagne
and toast to the reason.
Colleagues, friends, food and fun
are a must during the holiday season!
**********
Celebrate the warmth of the season.
You are cordially invited to join your colleagues at a winter cocktail party.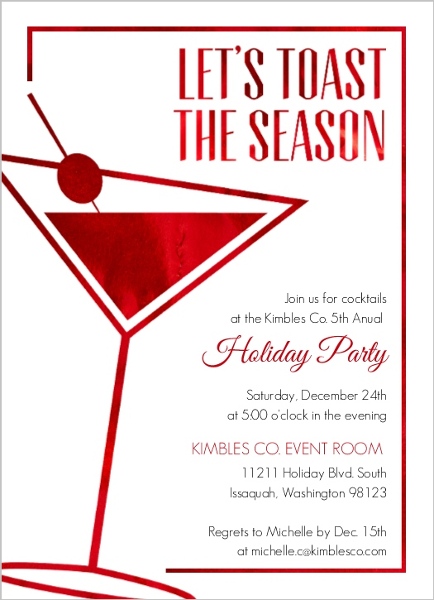 We're spreading holiday cheer with a company Christmas party!
Your single donation for Toys for Tots buys you an evening of dinner, drinks, dancing and laughter.
**********
The air is getting colder, 
the holidays are near. 
It's time for a celebration with 
those we hold so dear!
**********
Merry everything, happy always! Come celebrate the season at our annual cocktail party.
**********
'Tis the season for office holiday parties! You won't want to miss the fun that will take place at ours.
**********
The holidays….. 
a time of reflection, 
a time for good cheer, 
an excuse to get the entire office together
for appetizers and beer.
**********
Please join us on December 21
as we turn Conference Room B into our own Winter Wonderland.
Bring a potluck dish to share and get ready to celebrate the season!
**********
The decorations are up
and there's snow on the ground.
Now all we need is our co-workers gathered 'round!
**********
Under the stars and beneath the moon
will be a Christmas party you won't forget soon.
A party for all so full of cheer
A room full of people we all hold dear.
**********
It's the most wonderful time of the year…
an excuse to eat and drink too much
on the company's tab!
**********
Let's pop the champagne, we've got a good reason
it's the wonderful, magical holiday season.
You are invited to the company holiday party!
We hope these office holiday party invitation wording ideas have helped inspire you to create your perfect party invitations. For more inspiration for hosting your best office holiday party yet, check out these tips and these Christmas Party Invitation Wording ideas.
Happy holidays from the PurpleTrail team!
(Visited 175,801 times, 5 visits today)