Multi-day class reunions are a great way to maximize your time together. So many people who have attended reunions in the past have left saying, "the evening just flew by! I didn't even get to say hi to half the people I wanted to!" As a reunion planner, you may find it difficult to come up with multi-day class reunion ideas. We've compiled a list of class reunion ideas and inspiration to help you get started.
Having an entire weekend devoted to your class reunion is an easy way for people to really have time to reconnect. It's an opportunity to have several different activities so people can attend the functions where they're most comfortable. It also is enticing to those making a long journey back home. It makes their travels worthwhile with more to do and more time to spend reconnecting.
Class Reunion Invitations
Don't forget you can find eye-catching, stylish and custom reunion invitations on our site to customize with your school's logo and colors. Order your class reunion invitations several months ahead so your classmates will have plenty of time to plan.
Multi-Day Class Reunion Ideas
FRIDAY NIGHT:
Many classes kick off their reunion activities with an informal Friday night get together. The evening should consist of ice breaker games. This night is intended to loosen classmates up in an informal, neutral and relaxed atmosphere prior to the grand event. Typically these are held at a local restaurant or bar. Usually light hors d'ouevres are served and classmates pay for their own cocktails at these gatherings. Keep this event simple. No need for major entertainment, save it for the main event. (Read More on Family Reunion Games & Activities)
Here are some ice breaker ideas for your Friday night get-together:
Play trivia with questions about the year you graduated. For example, "What was the number one radio hit in June of 1991?"
Have each attendee write two truths and a lie about the things they've done in the decade since you've last seen them.
Team Jeopardy: split the group into several teams and play Jeopardy (ask questions that apply to your high school or college). For example, you could say "In addition to being a great physics teacher, this person also sported a wig."
Show a slideshow featuring photos of your classmates and their accomplishments since high school (obviously this will require people to send in photos ahead of time). This is a great way to get conversations started.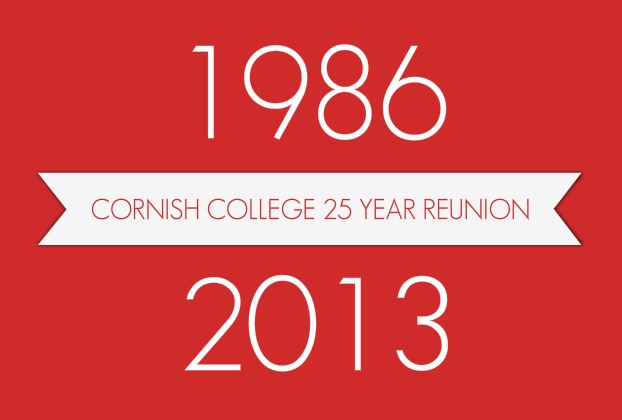 SATURDAY NIGHT:
Saturday night is typically reserved for the main event. Consider adding some daytime class reunion activities. Use these class reunion ideas for inspiration:
Tour of your old high school. If your event happens to coincide with your school's homecoming or a school football game, encourage classmate participation and try to organize reserved seating so your class can all sit together.
If a school tour isn't your idea of fun, try organizing activities like a morning golf outing, local sightseeing tour or a group shopping trip.
If the weather is nice, take your friends out on a nature hike or take a walk around town.
No matter what pre-reunion events you plan, don't underestimate their value. They all serve as relaxers or anxiety reducers that can help make the main event a success.
Saturday night should be the main event with dinner, dancing and lots of space and time for mixing and mingling. Consider having a live band (one that will perform a few songs from your graduation year). Roll out the red carpet, and either hire a photographer of have a photo booth. Decorate with your school colors or pick a beautiful color scheme. Remember to have a collage or small table honoring your classmates who have passed on.
SUNDAY:
People will need some reprieve after the Friday and Saturday festivities. Consider a Sunday picnic. This is a chance for any last minute catching up and to say your good byes in a less hectic atmosphere. For younger classes, make it a family event and include spouses and children.
When Should We Have Our Reunion?
Many of your classmates will need significant lead time in order to arrange time away from work and family.
Many prime locations and other services you need for your reunion may require 1-2 year advance booking.
The most popular times of the year to have a class reunion are early summer through late fall. Thanksgiving weekend is also a fairly popular time as many classmates may be back home visiting family.
If your classmates are in the child rearing stages of life, the summer months might be a more ideal time while children are out of school on summer vacation, especially for those classmates traveling from out of town.
Fall is also a great time of year because the weather is typically mild and it's host to homecoming and football games. You may want to consider coordinating your event around your high school's homecoming as it offers an opportunity for classmates to participate in additional activities on your reunion weekend.
Check out our posts on the Reunion Timetable and our Reunion Checklist for more helpful multi-day class reunion ideas and suggestions.
(Visited 8,291 times, 1 visits today)