Family reunions are a wonderful time to reach our and reconnect with family members. Set the theme of your reunion with your family reunion invitations. As you plan the reunion decorations for your event, make sure they reflect the mood and theme of your gathering. There are lots of easy ways to incorporate simple decor to enhance your theme.  Here are 8 great ideas for family reunion decorations.
Family Reunion Decoration Tips
Family Reunion Wall Charts
One of the most popular ideas for family reunion decorations are the large family charts which show all the family members and how they are related. They start with the ancestor and show all the cousins, aunts, and uncles and other relatives attending the reunion, and lets you see how everyone is hooked together. If you are feeling creative, use brown butcher paper to create a giant tree skeleton (trunk and branches)background and hang the chart on the tree. You can also cut out various colored leaves with the names of family members to use on your chart.
Yarn Balloons
These DIY decorations pack a big impact. You can easily make these yarn balloons in any color you like to coordinate with your thme. Follow this easy tutorial  and make beautiful reunion decorations to hang up around your venue. All you need is:
Thin cotton yarn
Balloons
Craft glue
Newspaper
Waxed paper
Clothespin
Clothes hanger
And you'll get these beautiful results:
Pictures, Pictures and more Pictures
If you can organize it ahead of time, ask people to mail the main reunion organizer family photos (ask them to label them so you can return them). Be sure to include photos of past reunions and photos of those no longer living. Create collages on poster boards to hang around your location. Ask families to include captions about their pictures to include on the poster board.
Family Name Banner Idea
Create a large family name banner to hang in the main area of your event. Add in a family slogan. You can have everyone sign the banner and take a group picture under it for the memory book. This idea for you family reunion decorations is sure to be a hit and your guest will rant about it for long. For an even more personalized touch, have some tempra paint, paint each person's hand so that they can leave a hand print by their name.
Mason Jar Solar Lanterns
These adorable table decoration mason jar lanterns can be found on  usedandabused via etsy. These would be perfect for the eco-conscious family. Not only are the vintage mason jars rescued from a fate at the recycle plant or garbage pile, they are filled with LED solar lights that can last for many years. Each of the jars is hand decorated with paper so that the glow is soft and colorful. All you have to do is let them soak up the sun's rays during the day and then set them out to create a festive glow in the evening.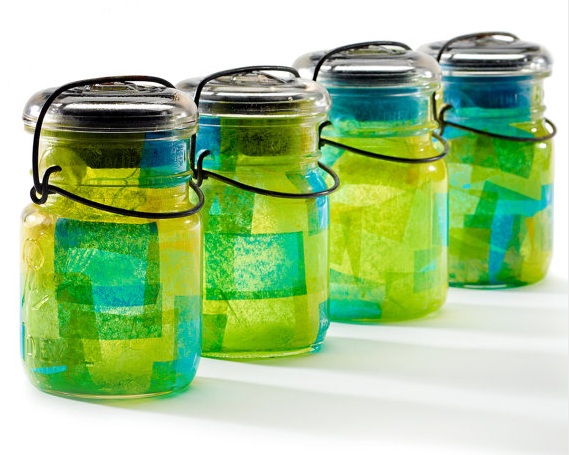 Balloons and Beach Balls
If you have a lot of little ones in the family, balloons and beach balls are always a hit! Blow up several beach balls and just let them float around. You can also fill latex balloons with helium and make sure they have long strings. Let them float to the top of the room and the kids will enjoy walking under them. Then they can take a few home at the end of the day.
Potted Plants
Get several small plant starts or flowers and terra cotta pots. Provide some potting soil and let everyone pot their plants as they arrive. If you want, you can provide paints to decorate the pots. Each family's plants can serve as center pieces for the event and then they can take them home for their own gardens.
It's easy to feel like you need lots of family reunion decorations ideas but you really just need a few accents to fit the mood of your event. Keep it simple and low stress! Need more ideas for family reunion? Check out more family reunion articles. Use PurpleTrail for all your family reunion planning needs!
We hope these family reunion decoration ideas inspired you!
(Visited 7,177 times, 1 visits today)