Moving into a new home ranks among the more exciting events in life. It's definitely time to break out the bubbly and celebrate. A Housewarming party is a great way to welcome old friends to your new home, meet your neighbors and introduce yourselves to the community. We've put together a few Housewarming party ideas and tips to help you plan a wonderful celebration.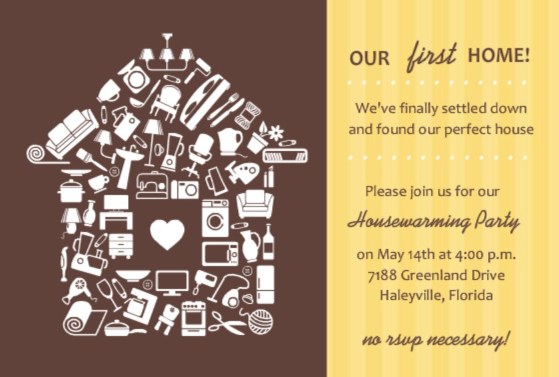 When to throw your Housewarming Party
You do not need to wait until every room is painted and every decoration is hung to invite your family, friends and new neighbors over! Most homeowners will tell you that the decorating is a never-ending part of home ownership. Your friends and family are there to celebrate your new house, not your decorating skills and paint color choices. So, throw your Housewarming party whenever you are ready! There is no time limit to throwing the Housewarming. Use these great housewarming party ideas to get your party planning process started.
Housewarming Party Ideas – Invitations
Invitations can set the tone of your party. Here are a few unique invitation ideas:
Make postcard invitations using photos of the new house with the address showing in the picture. This will help your guests to find the home more easily.
Find a picture of a tumbledown shack and upload it to your invitation telling your guests, for fun, that it's your new home.

Remember: When you issue invitations to this party, giving good directions will be very important. After all, this is the first time many of your family and friends will be visiting your new home. You could use one of the direction mapping sites to print directions and maps or prepare your own directions. Here are some tips for doing so:
Prepare Your Own Directions
Give directions from all the major highways your guests may use.
Map out the local roads by driving them yourself. The more details you can include, the better.
Note mileage between points, e.g. "after turning onto Rte. 51, go 5.5 miles until you come to Old York Highway at the fifth light, and then make a left."
Include landmarks so that guests can be assured they are progressing in the correct direction, e.g. "after turning onto Rte. 51, you will pass Pudgy's Diner, then Green Apple Supermarket, and finally the Fire House. Look for next stop sign – that will be Old York Highway. Make a right onto Old York.
Ask a friend to take your directions for a "test drive."
Include a map, if possible.
If you pay attention to all the little details, your guests will arrive ready to have a good time instead of grumpy and tired after getting lost.
House Tours
Tours of your new home are the main event, so you should have a plan for handling them.
If you plan to conduct the tours, you'll need someone to act as host, answering the door, welcoming your guests, and making them comfortable until the next tour begins.
You can assign a close friend or family member to act as tour guide for you.
You can allow guests to give self-guided tours. In that case, you might want to give your guests a floor plan of your home. Label each room with its name, purpose and any interesting details you'd like to show off.
If you've made extensive renovations to your home, post a "before" picture outside each room. You could also post pictures taken of the rooms while under construction. People love to see the magical transformation.
This is one occasion where, if cleaning is one of your priorities, you should clean all of your rooms. Ignore this suggestion if your party is taking place while your boxes are still packed. Then anything goes!
Housewarming Party Decorations
Special party decorations are unnecessary. You don't want to detract from the features of your new home. Everyone is going to be much more interested in seeing your new home than wanting to look at decorations, so keep it very simple. A few balloons, a tablecloth on the dining room table, perhaps a welcome banner. Other than that, a couple of burning candles and a few cheery floral arrangements will be more than enough to gild the lily.
Just don't forget to get paper plates, napkins and plastic cutlery. Then you won't have to be bothered with doing dishes!
Housewarming Party Food
Keep it simple. You are just getting oriented with your new home; this is not a good time to exercise cooking skills. You're going to be so busy greeting everyone and giving tours, there's no need to serve a formal sit-down meal. This is an ideal situation for casual finger foods and appetizers.
Some Housewarming party menu ideas are:
Little tea sandwiches
Fruit and vegetable trays
Appetizers like stuffed mushrooms, assorted olives, Nuts and cheeses.
Platters of meaty skewers
Chips and dip
For dessert, stick with cookies, cupcakes or a decadent cheesecake
Serve assorted beverages like beer, wine, soda, coffee and tea
Housewarming Party Activities
Your home is the main attraction, so you don't need to plan lots of activities to keep your guests amused. They will be far more interested by touring your house than in playing party games at this time. In fact, housewarmings are sometimes the only way old neighbors get to see each other since daily schedules can be hectic. But if you would like to bring in some extra fun then:
You can have your guests make abstract paintings, which you can then hang around the house. (Supply a limited number of paints so they stay in your color palette.)
Have your guest take pictures of each other and interesting views of the home and its details. Later you can have these pictures blown up and transferred to canvas.
Provide a guest book for the guests to sign and write their good wishes. Add photos of each person next to their signatures so you will remember them and the occasion years later. These great housewarming party ideas will surely make your party a hit!
Other Housewarming Party Ideas: Expressing Thanks
If you're inviting your friends and family to warm your house by helping you move in, paint and commiserate, thank them with a small, thoughtful gift. Money and time can be tight when you're moving into a new place, so keep it simple with one of these ideas:
A bottle of wine
Gourmet chocolates
A gift card
Don't forget the thank you notes to let your guests know you appreciate their attending the housewarming. You are also likely to receive gifts from guests unless you specify "no gifts" on the invitation. A Housewarming party is not a reason for gifts, rather a party to celebrate with family and friends. So, even though many folks may bring a gift for you to your Housewarming party, please do not expect them. Just thank them accordingly if you do receive gifts.We hope these Housewarming party ideas have been helpful in your planning process!
(Visited 9,804 times, 1 visits today)