As you begin planning your kids birthday party invitations consider a construction theme party. Creating a construction theme party is easy. You just need a few basic tools and you'll be equipped, just like the best, construction site in town. We've put together some great resources for party supplies as well as some innovative decoration ideas.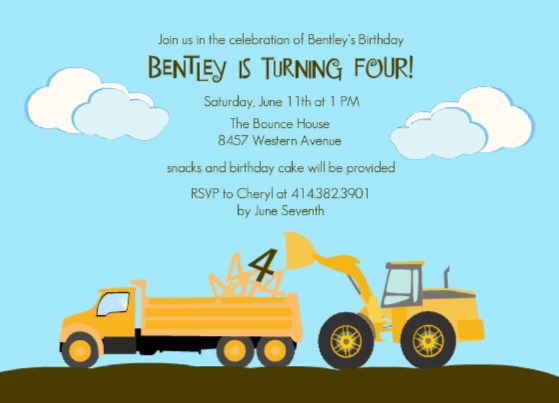 Construction Sign Cutouts
These are great for hanging inside and out. Everyone will now they've entered a real construction zone! These signs will really add color and atmosphere to your party. If you would like to save money, you can create your own signs. This will make for a fun crafts project for you and your little one!
Construction Photo Prop
This makes a cute centerpiece for party tables. Choose a favorite photo of you and your little one, or snap a few photos of the birthday boy or girl with their friends at the party!
Mini Construction Hat
Perfect for keeping party goers safe from construction fall out! This cute prop idea will really get the kids excited. They will also make for really cute photos. Let the kids take the hats home after the party as a souvenir.
Caution Party Tape
Caution tape can serve as both decorative and functional. Put in doorways you want blocked of from the little diggers. This is a fun and affordable decoration idea!
Construction Vehicle Cutouts
Post these construction trucks all over. Let guests take them home as party favors! Again, if you would like to save a little cash, make your own. You can even create a craft station for the kids at the party! They will love enjoy creating something that they can take home and play with later.
Construction Site
Make your own "under construction" site. Put up saw horses and lay out some tools, a hard hat and a metal lunch pail. Close off the area with some caution tape. Check out our construction theme party games and activity ideas. You'll find great ideas to keep your builders busy!
(Visited 761 times, 1 visits today)