Throwing a spooktacular Halloween celebration? Once you've mailed your invitations, gathered your decorations and planned your party menu, it's time to think about keeping your guests entertained.  We've gathered a group of free printable Halloween games to ensure you have the best possible party. Simply copy and paste them into a Word document and print as many copies as you need.
Halloween Party Invitations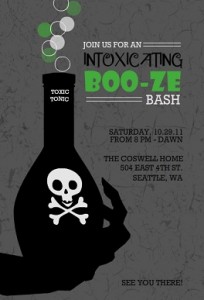 Don't forget to browse PurpleTrail's awesome collection of Halloween party invitations. No matter what kind of bash you're throwing, you're sure to find a style that suits you. Every invite can be personalized to fit your needs.
Printable Halloween Game – Pictionary and Charades
In this version of Halloween Pictionary and Charades, each of the clues falls under three categories: Object, Action or Person/Animal. Copy and paste the clues into a Word document. Print. Cut them into strips and place face down in a bowl or hat.
Divide your guests into 2 teams and post large sheets of drawing paper and provide pens for drawing. Each player will then take turns drawing a slip and will either act or draw their clue per the instructions on each slip. The team gets 2 minutes to guess the correct answer. They receive 2 points for correct answers. If the team is not able to answer correctly, the other team gets 30 seconds to provide one guess. Correct answers are then worth 1 point. Once all the slips have been played, the team with the highest score is the winner.
Draw- Hearse,
Act- Axe
Draw- Potions
Act- Spider Web
Draw- Bones
Act- Indian Corn
Draw- Scarecrow
Act- Tombstone
Act- Skulls
Draw- Zombie
Act- Coffin
Draw- Cauldron
Draw- Pumpkin
Draw- Apple
Act- Skeleton
Act- Candy Corn
Draw- Broom Stick
Act- Pumpkins
Draw- Witches Brew
Act- Full Moon
Draw- Mask
Act- Candy
Draw- Trick or Treat
Act- Costume
Draw- Die
Act- Dress Up
Draw- Fly
Act-, Spook
Draw- Haunt
Act- Carve
Draw- Startle
Act- Sneak
Act- Black Cat
Act- Bat
Draw- Werewolf
Draw- Spiders
Draw- Witch
Draw- Goblins
Act- Vampire
Draw- Zombie
Act- Frankenstein
Draw- Dracula
Act- Ghosts
Printable Halloween Game – Word Scramble
This game comes to us courtesy of our friends at www.funenglishgames.com and is a big hit with the younger crowd. Copy these scrambled words to a Word Doc. Print as many copies as you need. Have your little guests unscramble the words to win a prize. You can either time them (and award a prize to whoever has the most words correct  or just let the first person done be the winner. Don't forget to print an answer key for yourself!
1. LESENKTO
2. SMKA
3. OMEZBI
4. TGHOS
5. PIDRES
6. EATRT
7. MSROTEN
8. PNKMUPI
9. DNCAY
10. POKOSY
11. IMEARVP
12. ICTRK
13. CIFONF
14. ERTOCBO
15. HTWCI
16. YUMMM
17. UCEOMST
18. RSYAC
19. EATHUDN
20. TBA
Answer Key
1. SKELETON
2. MASK
3. ZOMBIE
4. GHOST
5. SPIDER
6. TREAT
7. MONSTER
8. PUMPKIN
9. CANDY
10. SPOOKY
11. VAMPIRE
12. TRICK
13. COFFIN
14. OCTOBER
15. WITCH
16. MUMMY
17. COSTUME
18. SCARY
19. HAUNTED
20. BAT
Halloween Party Game Prizes
Here are some ideas for prizes to award your young guests:
A bag to take trick or treating
A small goodie bag full of Halloween stickers, stamps and plastic spiders
Bubbles
A jump rope
Playing cards
Bouncy balls
Silly putty
If your party guests are a little older, try these party game prizes:
Movie passes
Candy
A candle
An age-appropriate scary movie
"Scary" or mystery books
Lotions or nail polish
We hope you enjoy your spooky Halloween party!
(Visited 4,464 times, 1 visits today)