Do you and your friends love football? Well, we have the perfect football invitations for your football themed celebrations! Whether you are inviting your friends over for Super Bowl Sunday or just planning to watch your favorite NFL team midseason, we have the perfect invitation ideas for you! Everyone enjoys gathering to wear bright colors, shout at the TV, and munch on football food. Let us help you make your party a success with these great football invitations and wording suggestions.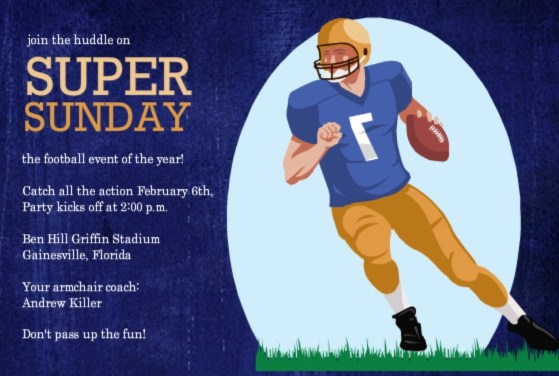 Football Invitations for Parties and Tailgates
You can get everyone pumped for your game day party with PurpleTrail's invitation maker. Create DIY invitations in your team's colors for printing at home. Customize any of our football invitations with your team's colors to set the tone for your football party. You can create football invitations in a variety of sizes and styles. The best part of our print at home service is that you can customize your design and have it emailed to you within minutes of your order being finalized.
Football Invitation Wording Ideas
After you select the perfect invitations, you'll need to find the appropriate wording to fill them with. Accompany your hot PurpleTrail football invites with creative, dynamic football invitation wording. At minimum your football invitations should include your party's time, place, and details.
On top of this information, make sure to include some friendly and welcoming invitation wording that will encourage your guests to join the party. We have compiled a list of suggestions to help you get started. Not only does PurpleTrail have the best-looking football invitations, we've also got the best message ideas to get your guest pumped up! Use the suggestions below for football invitation wording inspiration.
Let's kick it!

Your presence would be a real touchdown.
***********
Colton's crossing the 30-yard line
Please join us for a viewing party in honor of his birthday
Come decked out for the Patriots – no Jets fans allowed!
***********
Perfect that touchdown dance

And come join our huddle

For a Super Bowl party of epic proportions
***********
Kick-off time is almost here

Let's gather round the TV for burgers and beer

For the Seahawks, we will cheer!
***********
Are you ready for some football?

Of course you are!

Join us for for drinks, good food, fun, and football

Sunday, September 20th, 2012

at my house

222 3rd Ave, Seattle, WA
**********************
You're invited to tailgate with us

Sunday, September 11

Green Lake Park

This Sunday we are throwing a BBQ tailgating party in the park. Please bring a dish to pass. After the BBQ we will head over the stadium to watch the game. Please join us for all the fun!
Enjoy Your Celebration
The perfect party invitation will make your party a success. Save your self stress and let PurpleTrail help you find the invites you're looking for. You can design, order, and send your football invitations in the same day. Go! Fight! Win! Get your football invitations ready to go today!
(Visited 4,488 times, 2 visits today)