Ole! Whether it's for Cinco de Mayo or just because, send out hot and spicy cinco-de-mayo fiesta invitations from PurpleTrail. Margaritas, fajitas and Mariachi music are sure to fire up your guests and keep the party going all night long! Get inspired with our fiesta party invitation wording.
Fiesta Invitations – Wording Ideas
Grab your sombreros and Mexican wear,
And head to the border, if you dare.
We'll have plenty of tequila, salt, and lime,
'Cause its been declared margarita time!
**********
Fajitas, margaritas, salt and lime
That's right, it's Fiesta Time!
**********
Margaritas and Fajitas!
Please join us for a Mexican Fiesta!
**********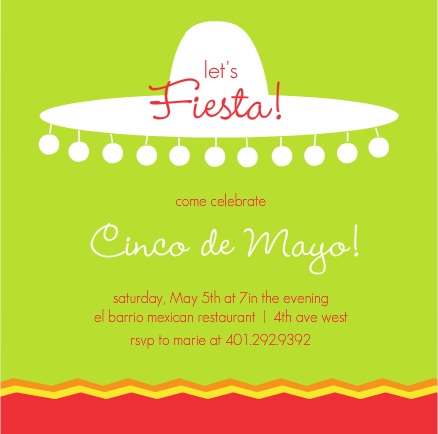 Hold on to your sombreros…

We're throwing a fiesta!
**********
You won't have to go south of the border for this fiesta!

Join us for a

Cinco de Mayo Celebration!
**********
They will be plenty of cervezas, margaritas, and limes!

It's Cinco de Mayo time

Join us for a fiesta!
**********
Join us for a Cinco de Mayo Fiesta full of good friends and good food!
**********
It's going to be a red hot night of fun!

Join us for dancing, drinks and traditional Mexican fare
**********
Join us for sizzling fajitas and frosty margaritas

It's a Cinco de Mayo fiesta!
**********
Fiesta Time is here

Join us for queso, tacos, nachos, pinatas, mariachi and more!
**********
Take a lot of margarita

Add a little salt and lime

It's a Cinco de Mayo celebration

And it's sure to be a good time!
**********
Please join us for a fiesta at our casa!
**********
The tequila is chilled, the limes are cut

We're just about ready to fiesta but

We need you here!

Please join us for cinco de mayo drinks & dancing
**********
(Visited 9,790 times, 1 visits today)