With cool nights and sunny days, a spectacular color display, and plenty of fun festivities, fall is a fine time of year for a wedding. If you're planning a fall wedding, use these creative fall wedding themes and fall wedding ideas, covering fall harvest wedding ideas, rustic forest wedding ideas, and Halloween wedding ideas, for tips on everything from fall wedding invitations to venues, decorations, fall wedding colors, and everything in between.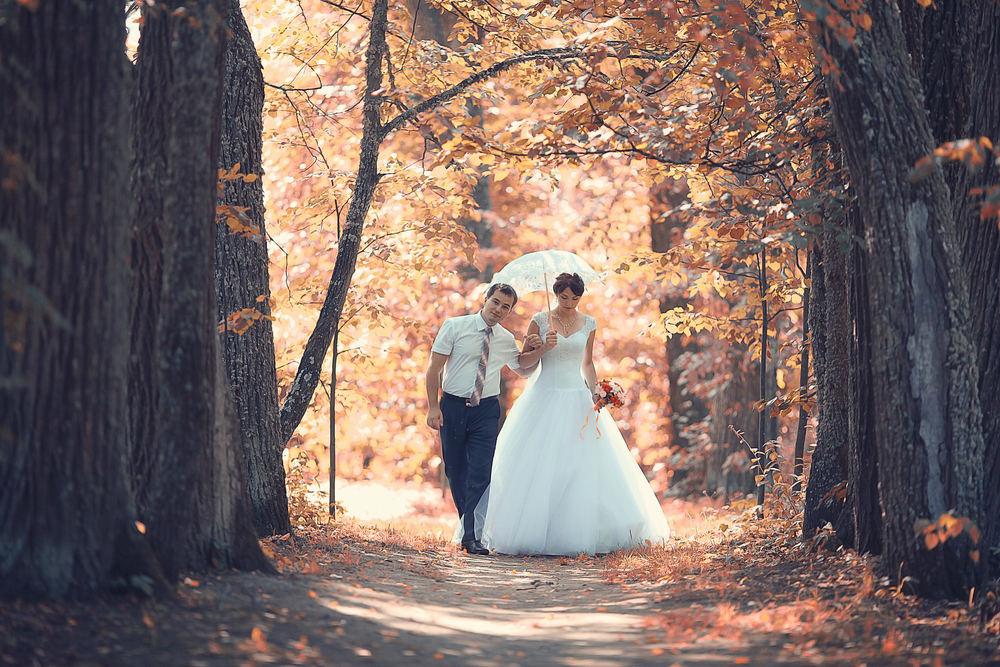 Make Your Own Fall Wedding Invitations
With so many options, finding fall wedding invitations that are just right for your big day can be tough. The best way to ensure your wedding palette, theme, and unique style shine throughout your wedding stationery is to buy personalized wedding invitations online.
On PurpleTrail.com you can make your own fall wedding invitations using our free online design tool and any of our beautiful fully-customizable fall wedding invitation templates. Choose a template and add colors, photos, backgrounds, and details of your choice.
After creating your own fall wedding invitations, you can customize matching stationery pieces like RSVPS, thank you cards, wedding programs, and more. Most of our custom wedding invitations are part of a full fall wedding invitation kit, so you can buy everything you need in one place. Don't forget the custom guestbook either!
For tips on what to write in your wedding invitations, use the fall wedding invitation wording sample below.
Fall Wedding Invitation Wording
We fall in love more and more each day.
You're invited to the fall harvest wedding of
Sarah Globe and Clark Crisp
Sunday the twenty fifth of September two thousand fifteen
from three in the afternoon until four in the afternoon
with a Halloween wedding reception
to immediately follow at the same location until midnight
Stone Burrow Farms
234 Sleepy Hollow Street, Hudson, MN
Halloween Wedding Invitation Wording
Fall Wedding Themes: Fall Harvest Wedding
A fall harvest wedding theme is a great way to embrace the natural beauty and rustic bounty of the season while celebrating an age-old autumn tradition. Use the fall harvest wedding ideas below to put a harvest twist on your fall wedding.
Fall Wedding Ideas: Fall Harvest Wedding
Fall Harvest Wedding Ideas: Fall Barn Wedding Venue
It may be a bit chilly this time of year but holding your fall harvest wedding in a barn can add abundantly to your theme. Barns of course relate to harvests; they also offer tons of old world charm and are usually built in beautiful rustic locations, like forests, fields and valleys that will add to your wedding's atmosphere while providing a colorful backdrop for your wedding photos.
Although most barns, even ones converted into modern wedding venues, don't have heat, many provide electricity, so space heaters can be arranged to nip the cold. Blankets, warm cider, and a bonfire built outdoors can also be provided to keep guests comfortable.
Fall Harvest Wedding Ideas: Harvest Moon Wedding
Fall harvest festivals are traditionally held at the end of September on the Sunday near or of the Harvest Moon, the closest full moon to the autumn equinox. Choose a wedding date during this time to accentuate your fall harvest wedding theme.
Wedding Colors For Fall Harvest Wedding: September Wedding Colors

Since fall harvests traditionally take place towards the end of September, when fall officially begins, September wedding colors can be used to embellish your theme.
Unlike the fiery hues of late fall, a fresher, softer and more muted palette with September wedding colors like sage greens, pale blues, peachy pinks, and soft yellows may be more fitting for your harvest wedding pallette. Other September wedding colors you can include in your fall harvest wedding palette are copper, bronze, gold, wheat, and mocha.
Fall Harvest Wedding Ideas: Apples, Menu, Games
Harvested in fall, apples are synonymous with the season and will add abundantly to your harvest wedding theme. Incorporate apples into your reception activities via apple bobbing and prepare apple pie, apple cider, and a caramel apple bar, complete with various toppings, for your dessert table.
Fall Wedding Invitations: Fall Harvest Wedding Invitations
You can use your fall wedding invitation's color, fonts, backgrounds, texture, and shape to embellish your fall harvest wedding theme.
If your fall harvest wedding will be formal, choose a simple palette, premium paper like pearlescent, and eye-catching die-cut shape, like the pumpkin fall harvest wedding invitation featured below.
For a casual fall wedding, find fall harvest custom wedding invitations with festive fall wedding invitation wording, photos, and bright colors and fonts, like the fall harvest wedding invitations above.
Fall Wedding Themes: Enchanted Forest Wedding
Ablaze in deep, fiery hues, fall forests have a magical look that will add tons of style to your autumn wedding. Whether you're thinking of simply holding your fall wedding in the woods or planning an enchanted forest Halloween wedding, you can use the fall wedding ideas below for creative fall forest wedding ideas.
Fall Forest Wedding: Enchanted Forest Wedding Ideas
Enchanted Forest Wedding Ideas: Fall Forest Wedding Venues
Do a bit of research to see what forest wedding venues are available in your area this fall. Your enchanted fall wedding can be held deep in the woods, indoors or outdoors. Apple orchards, vineyards, parks, and barns are just a few options. Explore this Best Outdoor Wedding Venues In The Pacific Northwest for more fall wedding venue ideas and inspiration.
Enchanted Forest Fall Wedding Ideas: Dreamy Lighting
Lighting makes all the difference, especially if your ceremony or reception goes into dusk. Simple decor pieces like strings of lights, candles, and lanterns can be used to cast a magical glow on your rustic fall forest wedding.
You can illuminate trees and archways with strings of lights, hang lanterns from tree branches, light up pathways with jack-o-lanterns, and decorate tables with tons of candles. Do a sparkler send off after the ceremony and if your wedding ceremony will finish near dusk, send off sky lanterns with guests before starting your reception.
Enchanted Forest Fall Wedding Ideas: Floral Crowns
Incorporating floral crowns into your fall wedding can add an enchanted, whimsical touch to your ensembles.
You can have them made from fresh flowers, make your own, or you can purchase a variety of faux flower crowns online from places like TheHoneyCombShop.com.
If floral crowns are a bit too over the top for you, you can accentuate your whimsical, rustic theme by adding a few fresh flowers to your hair instead.
Enchanted Fall Forest Wedding Ideas: Wings, Capes, Costumes
We love how creative you can be with fall wedding colors, decorations, venues and attire, especially if you don't mind adding a tinge of Halloween flavor to your big day.
You can keep your fall forest wedding on the traditional side with whimsical floral crowns, dreamy lighting, and vintage-meets-rustic decor or incorporate Halloween zest with fairy-tale-inspired capes, fairy wings, and old-fashioned caps to embellish the magical, fantasy or enchanted aspect of your fall forest wedding theme.
Fall Wedding Invitations: Enchanted Forest Wedding Invitations
Set the stage for your enchanted fall forest wedding with fall wedding invitations dressed in rustic details and whimsical fonts.
Choose bright, bold colors or dark, dreary colors for an enchanted forest wedding with a Halloween theme, as shown in the fall forest wedding invitations below.
Choose something with a simpler palette and more rustic embellishments for a more traditional fall forest wedding, as shown in the enchanted forest wedding invitation below.
Fall Wedding Ideas: Halloween Wedding, Hallowedding
If you really love Halloween, use it as your fall wedding theme. Invite guests to wear a costume. Hold your Halloween wedding or Hallowedding at a haunted destination, like any of these Haunted Hotels: Top 5 Halloween Wedding Destinations or a pumpkin patch. Make your Halloween wedding dark and scary or fun and bright, possibilities are limitless. Read on for more Halloween wedding ideas and Hallowedding ideas.
Fall Wedding Ideas: Halloween Wedding Ideas, Hallowedding Ideas
Halloween Wedding Ideas, Hallowedding Ideas: Venues
From gothic cathedrals to castles and haunted destinations, like house, hotels, and plantations, to festive, fun destinations, like pumpkin patches, rustic barns, and parks, there are a lot of options when it comes to Halloween wedding venues.
Your choice will depend on your budget, location, and Halloween wedding theme. Do research online to see what's available and right for you. Whichever Halloween wedding venue you choose, you can add an extra degree of spookiness to your big day by holding your ceremony and reception at night.
Halloween Wedding Ideas, Hallowedding Ideas: Costumes, Themes
Although costumes may not work for all Halloween weddings, especially if you're planning something very formal, they can add tremendously to your theme.
You can leave costume choices in the hands of guests or set themes, such as day of the dead, or limitations, like no gory or scandalous costumes aloud,  to ensure attire matches your Halloween wedding's look and feel.
You can even leave costume accessories, like masquerade masks, at each guests place setting.
Halloween Wedding Ideas: Halloween Wedding Reception Ideas
Incorporate spooky activities, like ghost tours, haunted house tours, or tarot reading sessions into your reception. Serve signature cocktails relative to your theme. And, if music will be involved, include Halloween classics like the monster mash, thriller, and any other songs you like with an eerie theme.
Halloween Wedding Invitations: Hallowedding Invitations
Your Halloween wedding invitations will set the scene for your big day so you will want to make sure they clearly convey your unique fall wedding theme. Highlight how formal your wedding will be not only in your Halloween wedding invitation wording, but also via your font, paper, and design choice. Incorporate your wedding palette or October wedding colors into your Halloween wedding invitations along with spooky, festive backgrounds and fall inspired accents.
Hopefully you found these fall wedding themes and fall wedding ideas inspiring! For more fall wedding inspiration, explore PurpleTrail's collection of customizable Halloween Wedding Invitations.
(Visited 4,054 times, 1 visits today)