From colorful piles of leaves to sherbert treetops, pumpkin patches, and Halloween, autumn offers fabulous palettes and festivities that will make your fall engagement photos look outstanding.
If you're in search of creative inspiration for your fall engagement announcement, check out the beautiful snapshots below provided by Laura's Focus Photography and the spooky Halloween engagement photos provided by PhotoKitch.
Fall Engagement Photo Ideas — Trees
Trees can add a lot of color, depth, and even symbolism to your fall engagement photos. Consider snapping a few shots in a vibrant forest, on a tree covered campus, or even next to a bare tree for a more artistic snapshot.
Tree lines can also make great backdrops. Try standing in front of an open body of water with a forest at the other end. The line of colorful trees will give your photos definition and color.
Taking a closeup of you and your partner standing in front of lake with colorful trees reflecting in the water behind you is another fun fall engagement photo idea.
You can add a ton of color and beautiful light to your fall engagement photos by having them taken within a forest at sunset.
Try lining up the photo so the sun appears directly behind you and your fiance as the two of you share a kiss — it will look as if the two of you are glowing.
Fall Engagement Photo Ideas — Leaves
Leaves… fall wouldn't be the same without them. They not only give fall its name, but also make it the brightest season of the year and can add a lot of life and color to your engagement photos too.
Here are a few fun ways to incorporate leaves into your fall engagement photos.
Use leaves to spell out a message like "I love you!" Or shape a large pile of leaves into a heart and have your engagement photos taken in front of it.
Lie in a pile of leaves with your fiance and have a photographer take a photo from above for a bright and romantic snapshot.
Throw a large handful of leaves into the air. As they cascade back down to the ground, have the photographer snap a photo of you and your partner while the two of you share a kiss.
Use a sharpie to write a message on a large, colorful leaf. It can be your wedding date or a message like "I said yes!" Hold the leaf in your engagement photo as you and your fiance share a kiss.
Set your engagement ring or rings on a fully-changed leaf. Snap a photo. The bright background will be sure to make your bling shine!
Finally, if there is a building, tree, or light post covered in ivy, snap a few engagement photos next to it. Ivy looks gorgeous as it starts to change for fall. The vibrant mix of reds, yellows, and orange will make your photos look amazing.
Fall Engagement Photos — Pumpkins
Add extra fun and color to your fall engagement photos with pumpkins. Have your photos taken in a pumpkin patch or simply include them somewhere in your photo.
You can even inscribe the pumpkins with a message related your special news, like "I said yes!" or "Engaged!" Or  you can add your wedding date to the pumpkins.
Carve the pumpkins with the message and stick a candle inside for a fun glowing effect. For a simpler option, write the message on the pumpkins with a black sharpie.
Here's one more cute pumpkin engagement photo idea. Secure your engagement ring or rings on the pumpkin's stem and snap a photo.
This will also give you another chance to show off your hard work if you took time to carve pumpkins especially for your engagement photo shoot.
Pumpkin patches are another option and will make for the perfect backdrop for your fall engagement photos.
You can give your pumpkin patch engagement photos more color and a soft glow by taking them at sunset.
Or, for a very romantic and Halloween inspired engagement photo, have your photographer snap a few photos of you and your fiance in the pumpkin patch just as the sun sets and the moon begins to rise.
Fall Engagement Photos — Halloween Ambiance
Although dressing up in your Halloween costumes for your engagement photo shoot is not necessary, including some Halloween flavor in your fall engagement photos can be fun and help capture the essence of the season. Spice up your Halloween wedding invitations in much the same way if you're going to have a themed wedding.
Take the below photo for example, where the couple is standing at the end of a dark tunnel. Their embracing silhouettes look super romantic while the orange lighting gives off a soft, spooky glow.
The photo is also symbolic. With the couple embracing at the end of a dark tunnel, it ignites thoughts of completion or fulfillment. It's a great shot to use as inspiration if you're trying to capture low-key and classy Halloween engagement photos.
You can also give your photos a darker or more Halloween vibe with different filters and lenses. Fish eye lenses will give your photos a warped look while antique, black and white, or color enhancing filters can be used to give your photos a brighter, darker, or deeper appearance.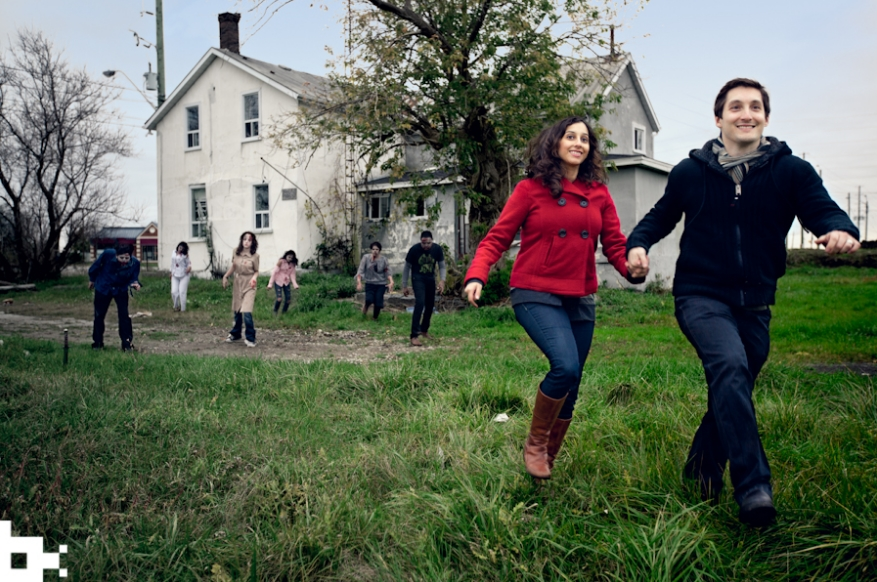 If you love Halloween and have a taste for the unusual, try centering your engagement photos around a spooky theme like your favorite horror movie or scifi tv show. You can even choose a theme, like Salma and Dan did in these photos, like zombie apocalypse for your Halloween engagement photo shoot.
Check out this 5 Creepy Engagement Shoot Themes post for more Halloween themed engagement photo shoot ideas and inspiration.
Hopefully these fall engagement photo ideas left you feeling inspired! Still in need of inspiration? Check out this Fall Engagement Photo Ideas post. Also, consider adding your fall engagement photos to one of our engagement announcements! Good luck!
(Visited 689 times, 1 visits today)