In need of fresh engagement photo ideas for a nearing shoot? Get inspired with these engagement photo ideas and beautiful engagement photos by award winning New York photographer Angelica Roberts. These would be ideal photo ideas to include in your personalized wedding announcements or similar stationery.
A great way to make your engagement photos unique is with interesting backdrops. Pose in front of iconic settings and eye-catching art.
Does you city have any famous landmarks? Include them in your engagement photos. Sculptures, fountains, bridges, and murals will all make your engagement photos standout, just like the vibrant New York mural does in the engagement photo above.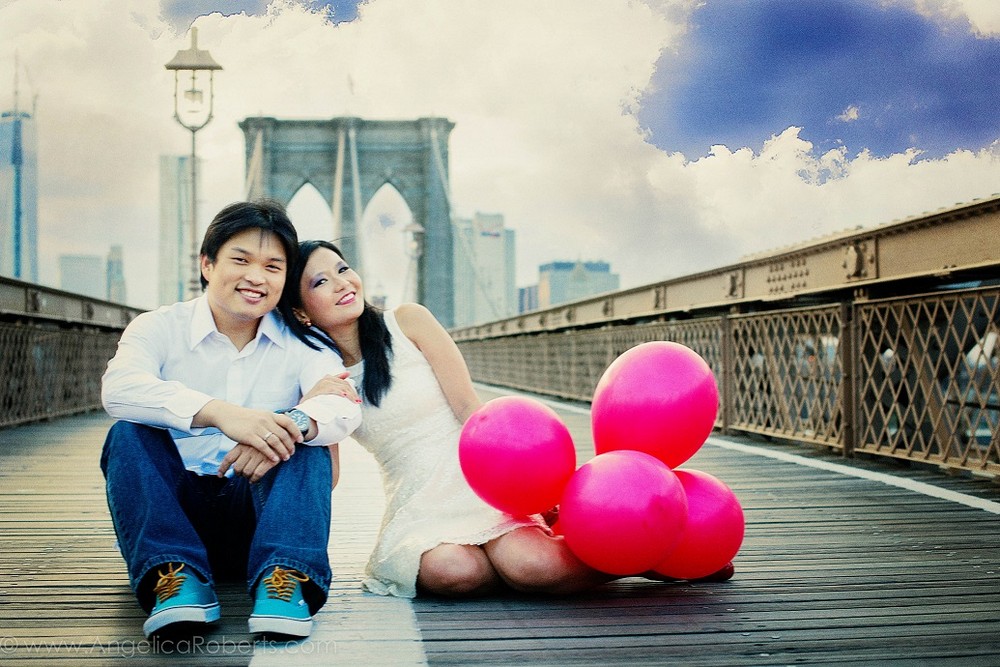 You can also use props, like umbrellas, balloons, and signs to add a pop of color and a bit of character to your engagement photos. Or combine bright balloons with an iconic landmark, like the couple did above in their Brooklyn Bridge engagement photo.
In the photo below, the couple is posing inside of New York's Grand Central Station. The gorgeous historic American landmark offers beautiful Beaux-Arts architecture, romantic lighting, and real-life hustle and bustle of passing by travelers who add life and movement to the photo.
Beautiful architecture looks great on camera. Include some in your engagement photos. Even if you don't live in New York, you should be able to find something beautiful in your area. If not consider traveling somewhere that does. Check out this America's Most Favorite Architecture Wikipedia post for ideas and inspiration.
Shooting your engagement photos outdoors is a great way to include the beauty of the season in your engagement photos. From the fiery hues of autumn to budding leaves of spring to the greenery of summer and the fresh white snowfalls of winter, each season has something beautiful to offer.
Although winter isn't the most comfortable time of year to take photos outdoors, a fresh snowfall can make for a pretty backdrop. Just take a look at the winter engagement photos featured here to see what we mean. Sometimes winter photos can look drab, since trees are bare and plants are brown and dead, but you can fix that with black and white photos.
If you live in a big city, including your city's skyline in  your engagement photo's background can not only add a lot of style to your photos, but also tons of meaning and a sense of place. Gain inspiration from the photo above. A photo in front of your city's skyline at night will also look really cool.
Including a bit of symbolism in your engagement photos will really make them special. Whether you're embracing at the end of a dark tunnel or holding hands as you climb a flight of stairs, your photo will showcase your love along with a hidden message.
Embracing at the end of a dark tunnel will ignite thoughts of completion or fulfillment (check out the photo here to see what we mean!). Climbing a flight of stairs together can symbolize the two of working together towards a heightened state of being.
Reflections, whether from water, a shiny surface, or mirrors, can really make your engagement photos sparkle. You can even be subtle about it, like in the photo above with lights softly reflecting off of wet marble.
Hopefully these engagement photo ideas have left you feeling inspired! Take a look at the rest of Angelica Robert's beautiful engagement photos on AngelicaRoberts.com. For more engagement photo ideas, check out our Fall Photo Ideas, Engagement Photo Ideas, and Save the Date Photo Ideas posts. After taking your engagement photos, add them to a custom engagement announcement and share your good news with everyone you know! Good luck.
(Visited 1,114 times, 1 visits today)