Wedding bells are ringing! An engagement party is the perfect time to celebrate with friends and family as you, journey into this new adventure in your life. Raise a glass and toast to your future! Choose any option from our engagement party invitation wording suggestions for your celebration. Get inspired to create your own unique message and make your engagement party invitations memorable.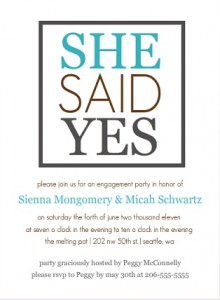 Engagement Party Invitation Wording Ideas
A night of Celebration
A night of Jubilee
A night to Toast the Happiness
Of the Bride and Groom to be!
********
Jenna and Andre's
wedding is not too far…
So let's get together
and stock their bar!
********
Of All The Fish In The Big, Blue Sea,
I Chose Him, And He Chose Me!
********
Roses are red, violets are blue,
Michael popped the question…
and Susan said "I do"!
Come Toast to Our Engagement
********
Where love reigns
the impossible
may be attained.
Please join us to honor
the engagement of
Susan Jones
and
Michael Smith
********
Joe and Lillian Jones
request the pleasure
of your company for dinner
to celebrate the engagement of
Susan Jones
and
Michael Smith
********
Love and Romance
fill the air
Susan and Michael's
day will soon be here.
Let's toast to the couple
and the bond they share
Who could make
a better pair?
An Engagement Party
********
He popped the question
She said "Yes!"
So we're having a celebration
Please be our guest
Celebrating
Michael and Susan
********
You are cordially invited to join us for Nathan and Hailey's Engagement, Party
********
Love is in the air
Jesse and Ava are getting hitched
Join us for an Engagement Party celebration
*********
Announcing the Engagement of Tasha and Devon
You are invited to a cocktail party in their honor
*********
Love. Honor. Cherish.
Let us toast to the newly engaged, Jason and Erica!
Join us for an Engagement celebration
**********
Together Forever
Jan and Josephine are tying the knot!
Join us as we celebrate their engagement
*********
He asked the question (finally)
And she said yes (phew)
Help Tammy and Jordan celebrate this exciting time!
An engagement party is being thrown in their honor
June 12
7 pm
Willows Lodge
*********
It took a while
That much is true
But the time has come
and we'd like to invite you
to an engagement party
for John and George
Come and celebrate
It's starts at 6
There'll be drinks and cake
Bring a date and don't be late.
*********
Shout it from the rooftops
Spread the cheer
This couple is grinning
from ear to ear
Celebrate the engagement of Helena and Inez
June 14
7 pm
Rocco's Restaurant
*********
To the happy couple
Join us as we honor
Michael and Anne
and their engagement
Saturday, June 10th
5 pm
Wescott Residence
*********
Soon they'll be going to the chapel
And they're gonna get married
Help us celebrate the engagement of
Roshini and Marcus
Belle Vineyards
August 16th
*********
The Future
Mr. and Mrs.
Hubert
invite you to help celebrate their recent engagement
*********
The love birds are engaged!
Come to the love nest
for an engagement celebration
We wish you a heartfelt congratulations on your engagement and wish you the best of luck in your new journey!
(Visited 9,028 times, 1 visits today)