If your December baby's first birthday is approaching, try using one of these fabulous holiday themes for their momentous celebration! From winter wonderland to peppermint candy, elf, and snow bunny themes — we have a variety of creative and unique Christmas first birthday motifs to choose from. Read on to find one that is perfect for your child's special day.
Winter Wonderland Christmas First Birthday
Turn your child's celebration into a winter wonderland using these festive tips. Start by creating custom winter wonderland first birthday invitations. Add your most adorable photos, cheerful fonts, and clever wording. Tuck your invites inside bright red envelops, and finish off your look with snowflake stamps.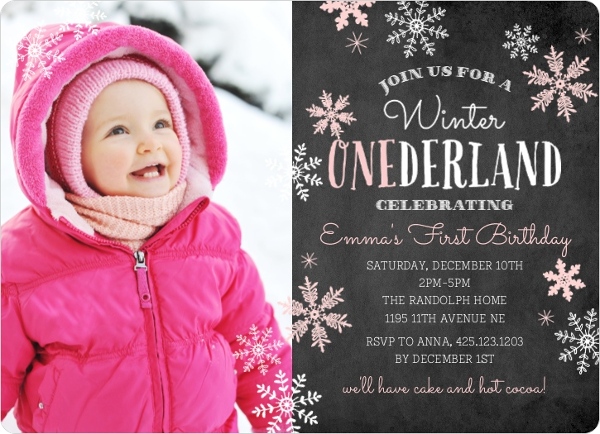 The invitations will be the first things your guests see, so do your best to make them great! Also, make sure to send them out well ahead of time — your guests will need adequate time to prepare for your child's celebration. And don't leave out any important details. At minimum include the time, date, and place of your celebration. Make a note as to what your guests should bring, and make sure your invites match your winter wonderland first birthday theme.
After you have your invites out of the way, you can start working on filling up your party room with frosty decor. Begin by searching your home for any snow themed decorations you can use for your party. White vases, platters, lights, or Christmas ornaments will all make for handy additions. Using items you already have will save you money and time.
You can also try your hand at creating a few DIY party decorations. Cutout paper snowflakes and hang them on your walls and in your windows. String paper snowflake cutouts together to create festive garland. Construct winter wonderland inspired table centerpieces out of branches, white spray paint, and a white vase. Spray paint the branches white, let them dry, and stick them inside of your vase for a simple, yet beautiful table centerpiece. Cover your tables with white fabric, and serve your guests hot cocoa, warm slices of quiche, and eggnog.
Peppermint Candy Christmas First Birthday
Putting together a peppermint candy themed first birthday celebration is simple and sweet. Again, you'll want to start with custom kids birthday invitations that match your theme perfectly. Check out the cute candy cane inspired invite below for inspiration.
Deck your room out in peppermint themed decor. Cover your table with bright red and white tablecloths. Fill up red and white vases with candy canes and use these as your table centerpiece. Add a few red and white feathers to the vases too — if you'ed like make them a bit more fancy.
Prepare a bright and tasty feast. Set up all of your food and drinks on one table. Fill up a large pitcher with cranberry juice — this will add nice color to your spread. Try making these festive candy cane cake pops. Cake pops are great for parties. Any finger foods that guests can snack on while socializing are great for parties. They will make things easier for your guests, plus they will  require less dishes and make cleanup much easier. Here are a few more fun finger foods you can add to your spread: pasta on a stick, caprese salad skewers, and mini-quiches.

Pass out packages of peppermint suds or small treat bags as party favors. You can make both of these favors your self to save money. Learn how to make your own peppermint soap on GlueStickBlog.com. Take a look at these DIY goodie bags for more party favor inspiration.
Elf Christmas First Birthday
Going with an elf theme for your child's first birthday can be super fun and cute. All great parties start with the invitations, so take time to make custom invites that match your theme perfectly. Then, get started on your decorations.
Create a falling snow decorations using a needle, fishing line, and cotton balls. Thread your needle with the fishing line. Then, poke the needle into your cotton balls. Slide the cotton ball down to the end of your line. Apply a small dab of glue to hold the cotton ball in place — hot glue works best. Add a second ball, but leave some space in between it and your first one. Keep adding cotton balls until your string of "falling snow" is as long as you want it. When finished lay it flat on a piece of wax paper and let it dry. Then, hang the string from your ceiling for a fun falling snow effect.
Set up a hot cocoa and coffee bar outfitted with plenty of marshmallows and candy cane garnishes. Pass green elf hats out to all of your guests as party favors. Bake a festive elf inspired cake, or have a professional prepare one for you.
Snow Bunny Christmas First Birthday
A snow bunny themed first birthday celebration is perfect of the coldest time of year, and it's probably the cutest party theme in the world. Again, you'll want to create super cute custom photo invitation for your themed celebration. Then, get started on decking your home out in white decor.
Cover your tables with white table clothes and place a snow bunny stuffed animal in the middle of as a centerpiece. At the end of the celebration you can give the stuffed toys away to all of the young guests as party favors.
Cut a bunny silhouette out of a very large piece of cardboard. Spray paint it white and fill in the cutout with your favorite baby photos. Make a bunch of paper snowflakes and attach them to your walls and windows. Spray your mirrors and windows with fake snow and use your finger tips to create little bunny paw pints across the surface.
Hope these Christmas first birthday themes give you the inspiration you need to plan an amazing celebration for your little snow angel. Try to get a few friends or family members to help you through the party planning process. The more people involved in the planning process,  the more fun and creative your celebration will be. Good luck planning for the celebration and congratulations!
(Visited 11,557 times, 3 visits today)