For all involved, the bridal shower is one of the most looked forward to pre-wedding festivities. One of the best ways to make the event a little different and memorable is to pick a theme for the shower. You can set the bridal shower theme with amazing bridal shower invitations to give guests an idea of what to expect.  We have some great bridal shower theme ideas to help you find the perfect theme to suit the bride-to-be.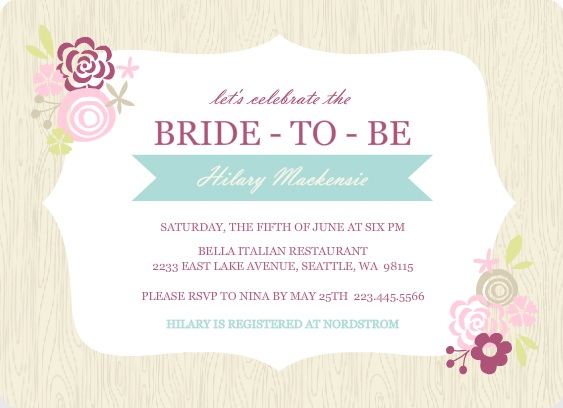 Great Bridal Shower Theme Ideas
Room Theme
For this theme, assign each guest (or group of guests) a different room of the house.  They can then get gifts that would be used  in that room for the couple. Your list of rooms could have a living room, dining room, pantry, bathroom, kitchen, master bedroom, guest room, and so on. When making your invitations, be sure to tell each guest some ideas to help them pick a gift. For example, tell the guest who is assigned the bathroom that it is decorated in shades of blue, or tell the guest assigned the dining room that the curtains are red, etc. In this instance, it may be helpful to list where the couple is registered to ensure they will get decor and items that they will use and that will coordinate with their home.
Cuisine Theme
This bridal shower theme is perfect for the lady and bride-to-be that loves to putter around the kitchen, or just has a favorite cuisine. If your guest of honor loves Asian cuisine, you could dress up your shower venue with lanterns and chopsticks and maybe order food from her favorite takeaway restaurant. If it is Italian that she loves, use her favorite region of Italy as inspiration for decorations and food. Gifts can be all about cooking. Gadgets, cookbooks, recipes; what ever you would help the couple in the kitchen! If you want to go all out, you could even have a chef or expert cook her/his favorite meal to enjoy.
Holiday Season
The winter holiday season is looked forward to by almost everyone. Encourage guests to shower the couple with holiday decorations to help them start their collection as well as items from their registry. This theme works well if the wedding is occurring shortly before or around the winter holidays. Decorate for the season and serve wonderful holiday style fare.
Around the Clock Theme
This is a fun theme and allows guests to be creative with guests. Assign the guests different hours of the day and ask that they bring along gifts suitable to that hour. For example, for a time of 9:00 a.m guests breakfast and morning inspired items. For 11:00 a.m it could be fancy flatware for brunch time. For 5:00 pm,gifts around cocktails, dinner parties and evening relaxation would be fun. A 9:00 pm time could bring gifts for the bedroom and bath. Clever decorations could include posting quotes that remind them to savior each as they embark on this  new marital journey.
Bed and Breakfast Theme
For this theme you can ask guests to bring along gifts for either the bedroom or the kitchen. Be sure to pass along information about any gift registry that the bride-to-be has created so that guests know what the bride needs and they do not bring duplicate items. On the day of the shower, you can serve a hearty breakfast or brunch and for entertainment you can play some naughty bedroom shower games.
Travel or Honeymoon Theme
This is a great theme for a couple who is making a big trip for their honeymoon. You can ask the guests to bring items that the couple will need for their travels. Some examples are suitcases, beach towels, hiking shoes, or anything related to their trip. To decorate for the shower you could hang a big map of the world and travel posters, or decorate the room like the place the couple will be traveling to.
Spa and Beauty Theme
This is just right for the bride-to-be who loves to pamper herself, or doesn't get much opportunity to do so. For a low cost option, you could host this party at your home and include spa activities that are fun and easy. Some good things to include would be all the items needed for a manicure and pedicure, or facial masks. Another option is to host the shower at a nearby spa itself. You could ask each guest to contribute money for their part of the spa events, and the spa may even give you a good group rate. If you pick this option, be sure to have everyone pitch in for a nice spa basket for the bride-to-be to take home afterward and remember her special day.
Recipe Shower Theme
If the bride-to-be is inexperienced in the art of cooking, a recipe shower may be just the ticket for her. She gets the recipe for all of her and her to-be-husband's favorite dishes. She is sure to thank you for all the recipes and gifts of ingredients and spices for the recipes. This is a good way to stock up the newly weds kitchen.
Activity Party Theme
This is good for a small set of friends who want to chip in and help the newly weds set up their home. This could be a day spent together painting or decorating the house, or any other activity that the couple needs help with.
Lingerie Shower Theme
This type of shower is good for a close group of girl friends. It is a fun way to get together and also give the bride-to-be a nice collection of lingerie items to start her married life.
Tea Party Theme
A tea party is a lovely theme for a gathering of the bride's favorite ladies.  Instead of disposable party supplies use good china. Make dainty heart shaped sandwiches and decorate the room with lots of flowers if your budget allows. Using real linens and beautiful serving dishes will only enhance this elegant theme. This is easily a top favorite bridal shower theme as we have several designs of different products all devoted to a tea party. Check out this custom bridal shower guestbook.
These bridal shower theme ideas can help you establish a tone for all aspects of the bridal shower. From gifts to party decorations, to food and drinks; you can easily coordinate all the details to represent your theme.  You can encourage guests to bring gifts that support the theme you have chosen as well as provide them (via word of mouth) information about where the couple is registered. Just be clear on your bridal shower invitations on what is expected of guests.  Happy celebrating!
(Visited 2,313 times, 1 visits today)