Here comes the bride! Bridal showers, are a time when friends gather to pamper the blushing bride and spoil her with lovely gifts for her upcoming nuptials. Whether it's a bridal luncheon or lingerie themed shower, be inspired by one of our bridal shower invitation wordings to help make this bridal shower invite memorable and unique. You can send gorgeous bridal shower invitations with the perfect wording that guests will find irresistible.
Bridal Shower Invitation Wording Ideas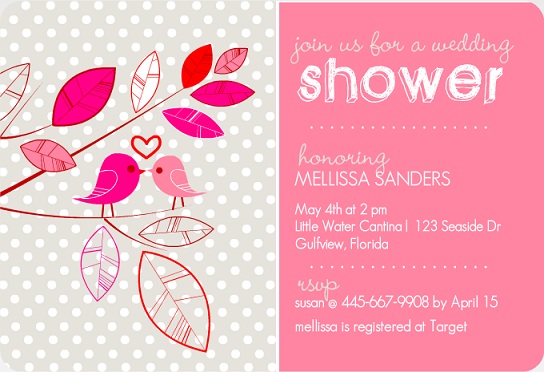 Karen's big day is almost here
Let's shower her with love and cheer!
**********
Let's get carried away
at an
Around the House Bridal Shower
**********
Please join me in
honoring my Bridesmaids
at a
Spa Day!!
We'll have lunch
and pamper ourselves all afternoon!
**********
It's Tea Time!
A spot of tea
to sip and see
the radiant smile
of the bride-to-be!
**********
Please join us in showering Rachel Smith
with love and best wishes at a party in her honor
**********
Before the Miss
Becomes a Mrs.
Lets shower her with love and good wishes
You are invited to a shower honoring Penelope Fenner
**********
Her closet needs attention
That's what her husband did mention
No doubt he'd like for you to bring
Something sexy to match her new ring!
A lingerie party
Honoring
Hadley Finnerty
(lingerie party)
**********
Something frilly
Something sweet
Something sexy
To knock John off his feet!
Susan is getting married!
Please join us for a lingerie shower
**********
Mark you calendars and don't be late
for a couple's shower on the 8th.
Join us as we honor and stock
John and Lisa
for "Around the Clock"
**********
To Hawaii they'll go to take their vows,
but before they do we'll show them how
to create a hut built for two
A couple's shower is what we'll do…
**********
A sprinkle of confetti and a couple of kisses,
Soon Lisa and Tim will be Mr. and Mrs.
But as we wait for that special hour,
Let's honor Lisa, with a surprise Bridal Shower!
**********
A set of sheets, some towels, a pillowcase or two…
It's a Linen Shower for
Susan Smith
And we're inviting you!
**********
Before Jenny says, "I do"
Let's shower her with love
And a few gifts too.
Join us for a bridal shower
honoring
Jenny Gilmore
**********
Before they become Mr. & Mrs.
Let's shower them with love and well wishes
Join us for couples shower
honoring
Gerard and Monica
**********
She said yes.
Let's help her celebrate!
We're having a bridal shower
for
Kim Darby
 **********
It's almost time to tie the knot!
You are invited to celebrate the upcoming wedding
of
Jonathan and Kierra
At a couples shower
Thrown in their honor
 **********
It's almost time to stand before
All the people they adore
To declare the love they share
Is true and lasting for this pair
Join us for bridal shower honoring
Helen Chang
Bridal Shower Theme Ideas
Couples Shower – Include the men and the ladies for a fun filled celebration.
Girls Weekend – Pack up and head out for the weekend with your favorite girls.
Spa Day – What bride-to-be wouldn't appreciate a day of relaxation and beauty?
Wine and Cheese Tasting – Either head to your favorite winery or set up your own tasting at home.
Yoga Theme – Talk to the bride's favorite studio and arrange a private class or have the instructor come to you.
Baseball Shower – Splurge on good seats for her favorite team or, play your own game at the park.
Bowling Shower –  Head to the bowling alley for some friendly competition. Add in some nachos, pizza and beer too.
Craft Shower – For the bride who channels her inner Martha, have a craft shower to work one of her favorite type of projects.
Tea Party – A lovely and proper way to honor the bride-to-be.
Brunch Shower – There are so many wonderful ways to serve up a magnificent brunch!
Cooking Theme – Book a cooking class or make a dish as a group at home.
Linens Shower – Shower the bride with all her lovely linens for her new home.
Garden Shower – Head to the local botanical gardens for a how to lesson or just to admire the scenery. Gifts to the bride can center around all things gardening.
All White Shower – This stunning theme can be incorporated to all elements of the shower. Ask guests to dress in white, serve white food and decorate in white.
(Visited 15,516 times, 1 visits today)