Its a boy! Having a baby is an exciting time for a family and hosting a shower is a wonderful way to celebrate the happy occasion. PurpleTrail has a beautiful collection of boy baby shower invitations to send to your guests. But selecting the invitations is only half the task. You'll also want to find the perfect baby boy shower invitations wording. We've compiled a collection of baby shower invitation wording to inspire you.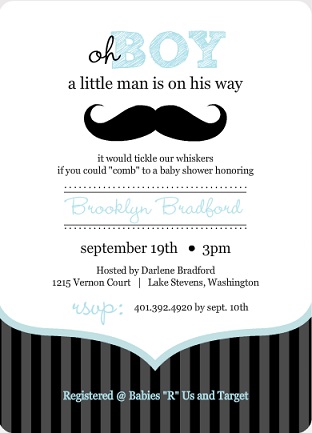 Plan your baby shower invitation wording around the style of invitation you choose. A more formal party will need a fancy invitation with sophisticated wording, while a casual affair calls for a casual invitation.
Oh Boy! You are cordially invited to a baby shower honoring Julie Smith
**********
Snips and snails, and puppy-dogs tails
You are cordially invited to a shower in honor of our sweet bundle of love
**********
Please join us in celebrating our new baby boy
**********
Two little feet we are about to greet,
A baby boy we can't wait to meet!
**********
Tiny fingers, tiny toes
Little itty-bitty clothes
Boats, cars, wooden toys
Guess what she's expecting…
A BOY!
**********
We're thinking of BLUE and happy to say,
A little baby BOY is on his way!
**********
The honor of your presence is requested
at a baby shower for Sarah Sartain
and her baby boy.
**********
Please join us in sharing Elizabeth's joy
as she prepares for the arrival of her little boy.
**********
Come join the celebration
we have much anticipation
Of the wonder and the joy,
of the Thompson baby boy!
**********
He's wrapped in blue, a bundle of love,
he's Jennifer's sweetest gift from above.
Baby Michael is here and it's time for a shower
to celebrate the little man of the hour.
**********
A baby boy is on the way,
so let's celebrate with a special day.
Please join us for a baby shower
honoring Tammy Smith and her expectant son.
**********
Ahoy! Lisa is having a boy!
Join us for a shower on Saturday, May 12
**********
A baby boy is on the way
Let's shower Maria
before arrival day!
**********
Dawn is expecting and she hasn't a clue!
Let's surprise her with a shower
for the little baby in blue!
**********
Trucks, tractors, trains, oh my!
It's almost time to meet Diana's little guy!
**********
Baby Dylan is almost here and we're proud to say
we're showering his Mommy in our own special way.
Diapers, clothes, and sweet baby toys,
Anything she would want for her new baby boy.
**********
Adam and Andrea's big day is drawing near,
so let's shower them with gifts and good cheer.
**********
The verdict is in: It's a boy!
You're invited to a special shower in honor of Emily's bundle in blue.
**********
Bottles and booties 
and bibs and more, 
let's shower the baby boy
with gifts galore!
**********
Let's shower him with love before he even arrives!
You are cordially invited to a baby shower for 
Brianne Lane and her baby boy.
**********
Twinkling stars in the heaven above are smiling down on baby with love! 
Please join us for a baby shower 
honoring Cathy Lynn and her baby boy Aidan.
**********
Please join us for a baby shower for Chelsea
before her baby boy arrives
and her sleepless nights begin.
**********
Michael and Monica were always so cool,
but we'll see how they look covered in drool
Come help them prepare for the things babies do
with a couple's shower for their bundle in blue.
Baby Shower Invitation Wording: Details
Your invitation wording should certainly include a catchy phrase or a cute poem, but don't leave out the details! Make sure your baby shower invitations include the following:
Date
Time
Location, with directions
Theme, if any (diaper shower, clothing, etc.)
Food served, if any (so guests will know to eat if need be)
Is it a surprise? Don't leave this off the invitation!
Where the mom-to-be is registered
RSVP information
We hope you've been inspired by our collection of baby shower invitation wording ideas. For more invitation inspiration, check out this blog post. We hope your baby shower is a beautiful success that results in memories the mom-to-be will cherish for years to come.
(Visited 32,985 times, 1 visits today)