Whether you're gathering the block to celebrate new neighbors, Fourth of July, or the end of summer, you can use these creative block party ideas to plan an unforgettable event. Covering summer party invitations, wording, decorations and more. You'll have everything you need to plan the perfect summer celebration.
How To Organize A Summer Block Party
Summer Block Party Ideas: Meet With Neighbors
Before anything else, you'll of course need to meet with your neighbors to see what they think of having a summer block party. If enough people are intrigued, make a plan and involve them in the party planning process.
Designate neighbors who are willing to participate with certain jobs. You can put someone in charge of getting a block party permit (if you'll be having it on the street), someone else in charge of making block party invitations or block party flyers, and others in charge of food, activities, and decoration planning.
Finally, decide on a date for your block party, a location and figure out which activities, games and food to organize for your celebration.
Summer Block Party Ideas: Permit
If you'll be having your summer block party on the street, check with city hall to see if closing off your block is an option. If so, get a permit. You can go in person or apply for one online.
The price for a block party permit will depend on where you live. In Seattle they're free, but in other cities you may be required to pay as much as $75.
Otherwise, it's totally fine to have your summer block party at a house near the center of your block or in a large yard or several yards.
Summer Block Party Invitations, Block Party Flyer
Make your own block party invitations online. On PurpleTrail.com, you can personalize a variety of beautiful summer party invitations with your block party details and choice of fonts, colors, photos, maps, and more.
They also offer poster templates, so you can make your own block party flyer there, if you prefer that over invitations. And, RSVPs and envelopes can also be personalized to match your block party invitations.
Send your summer block party invitations or summer block party flyers at least two weeks prior to the celebration. Include RSVPs to get a head count and any details as to what guests should bring, expect, or do to help.
Summer Block Party Invitation Wording Ideas
Use the summer block party invitation wording ideas below for tips on what to include and how to phrase your invites.
Meet, Greet, and Eat
with neighbors at our 1st annual
Summer Block Party
July 20th, 2015 at 12:00 pm until midnight
On the corner of Second Ave. and John St.
Come prepared for food, drinks, and activities.
Please bring a chair.
*****************
We're taking over the street
with fun activities and good eats
For The Water Street Block Party
July 15th at noon until 5:00 pm
Please RSVP with Karyn by July 1st
and please bring a chair.
Karyn: 888.888.8888
Summer Block Party Ideas: Decorations
Because your summer block party will likely take place outdoors, you can keep your decorations to a minimum.
If your block party will spread out into neighbors' yards, for instance if one neighbor will be grilling or having a bonfire that the block is invited to attend, use DIY signs to direct guests.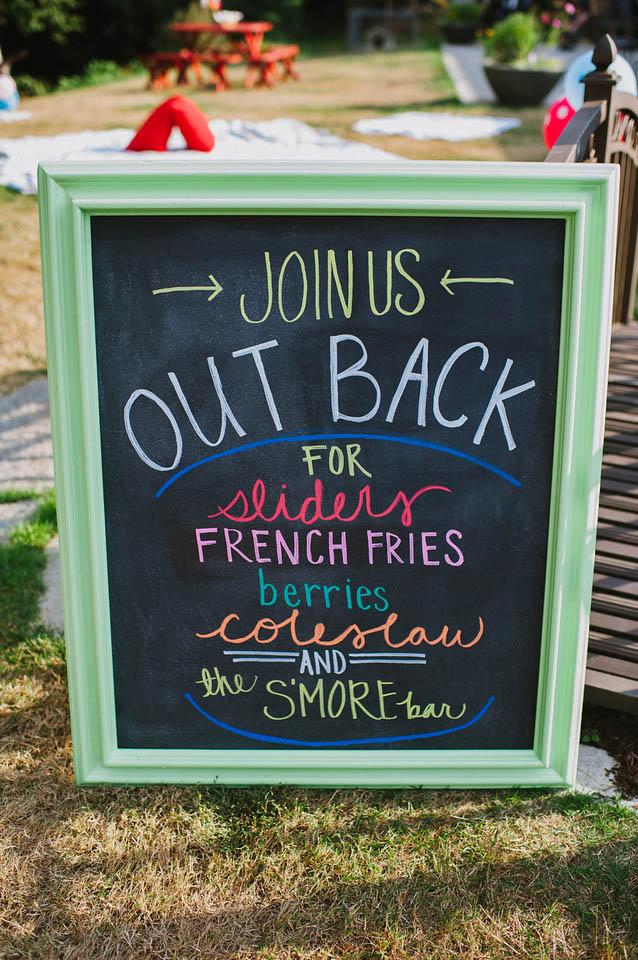 You can make your own signs using chalkboard paint and a wooden board, paint and a wooden board, or paper and markers.
Balloons, colorful bunting, simple jars filled with fresh cut flowers, and banners can also be used to add festive charm to your summer block party.
Use the summer block party decorations below for more inspiration on sprucing up your celebration.
Summer Block Party Decorations: Mason Jars
Not only are mason jars super trendy right now, they are also durable, diverse and will add tons of rustic charm to your summer block party.
You can use them to serve beverages, hold cutlery or as decorations by adding candles or fresh cut flowers to them.
Summer Block Party Decorations: Chalkboard Table Runner
Apply a thin coat of chalkboard paint to a long strip of canvas cloth. After it dries, you can use it to cover your block party tables.
You can write an inspiring summer message on it, include what's being served, or even leave it blank for your younger guests to color in during the celebration.
Find more ways to make your own chalkboard table runner on Apartmenttherapy.com.
Summer Block Party Decorations: Strings of Lights, Lanterns, Candles
If your summer block party will go until dusk, brighten up your party space with strings of lights, candles, and lanterns. Stretch strings of lights throughout your venue by attaching them to trees or fences.
Learn how to make your own hanging candles and lanterns using mason jars on TheGardenGlove.com. Make your own colorful tin lanterns for your summer block party by following the tutorial on OhBestDayEver.com.
Summer Block Party Ideas: Block Party Food Ideas
Have everyone pitch in on food, napkins, plates, dessert, and everything else you'll need for your summer block party by assigning neighbors with specific items to bring ahead of time.
You can meet with them in person or send a list via email noting all the items you'll need for the celebration, such as dessert, paper plates, fruit and drinks. Then guests can email you what they'd like to bring.
Use the summer block party food ideas below for tips on what to add to your block party's table.
Block Party Food Ideas: Grill
Summer and grilling go hand in hand, so having a few neighbors on grill duty wouldn't be a bad idea for your summer block party.
Hamburgers, hot dogs, and corn on the cob are classics almost everyone will enjoy at your summer block party.
If you want to get creative, try making your own grilled pizzas, bell peppers, avocados, or any of the other foods featured on this 27 Unexpected Foods to Grill list.
Block Party Food Ideas: Watermelon Punch Bowl
Add a pop of summer color and sweetness to your block party spread by serving refreshing fruit punch from a hallowed-out watermelon.
Check out MarthaStuart.com for the recipe, which can be thrown together easily in less than an hour.
Block Party Food Ideas: Fruits
Thirst quenching, healthy and a seasonal summer product, fruit will make a great addition to your summer block party. There are a variety of fun ways to serve fruit at your summer block party.
You can create tasty, easy-to-eat fruit kabobs by skewering a variety of fresh fruit onto a stick.
For a Memorial Day or Fourth of July block party, you can use cookie cutters to dice slices of watermelon into stars and add them to a large dish with some blueberries.
You can even fill small, individual wax paper bags with cherries for each guest to grab and snack on as they mix and mingle at your summer block party.
Block Party Food Ideas: Campfire Food
Sitting around a campfire is a classic way to celebrate summer. If any of your neighbors have a fire pit, see if they would be interested in lighting it up for your summer block party.
It can act as a means of entertainment for guests, but also provide guests with a way to create classic campfire foods like smores, roasted marshmallows, and pudgy pies.
Summer Block Party Ideas: Block Party Games, Block Party Activities
Prepare a good mix of summer block party activities and games for adults and kids. Since your summer block party will likely take place in the street, try making use of the space that is rarely all yours.
For instance, your younger guests can bring bikes, skateboards, and roller blades to play with. And you can provide even younger guests with pales of sidewalk chalk, so they can draw pictures or play sidewalk chalk games like hop scotch.
If the weather's nice, prepare water balloons, squirt guns, and slip and slides for your young guests to play with in the grass. If there's someone with a pool on your block, see if they'll open it up to the kids for the block party.
In addition to chalk, things like kites can be given to kids to use throughout the block party.
Although adults won't require too much entertainment, simple games and activities can be used to break the ice. You can plan anything from a chili contest to a watermelon eating contest to trivia to encourage your adult guests to open up.
As we mentioned earlier, a campfire can be a great way to enjoy summer. See if there's someone in your neighborhood who wouldn't mind lighting up their fire pit during your summer block party so guests can relax, eat marshmallows, and enjoy one another's company.
Hopefully you enjoyed these summer block party ideas and are feeling inspired. Check out PurpleTrail.com to get inspired by their latest collection of Memorial Day Party Invitations or custom BBQ party invitations. Choose from one of our templates and then make it your own by adding photos, changing text or colors as you please.
(Visited 7,435 times, 1 visits today)