Another year, another birthday, what a happy day! Make someone feel special by sending them a thoughtful birthday invitation. Inscribe your invitation or card with meaningful wording. Make your card even more special by adding a meaningful quote. Use this list of ideas to find your birthday card wording inspiration. For special bat mitzvah birthday celebrations take a look at batmitzvahwording.info for more great wording ideas.
Birthday Card Ideas
Before you start thinking about birthday card wording, you'll need to pick out an appropriate birthday card. Make your own birthday card from scratch, create a custom PurpleTrial card, or purchase a simple card from the store. DIY and custom cards are by far more personal and meaningful than an ordinary drugstore card.
Check out this DIY Birthday Card article to learn how to create a beautiful birthday card from scratch. Take a peak at PurpleTrail.com for a wonderful selection of birthday cards and invitations. PurpleTrail has hundreds of beautiful designs that you can customize to your liking. Upload personal photos, include custom wording, and create a totally unique, custom card on PurpleTrail.com.
Birthday Card Wording Ideas
Your guests will appreciate receiving a card inscribed with a sweet message. Show your loved one you care with meaningful birthday card wording. Try making your card personal by sharing a special memory or inside joke with your friend. Think of your own or borrow one of these cute birthday card wording ideas.
On this day the stars align, may your celebration be divine! Happy Birthday friend of mine!
************
We sincerely thank you for contributing to the success of our company.

Best wishes for a wonderful Birthday!
************
Happy Birthday! May your day be filled with celebration and joy!
************
Enjoy your special day. You deserve it!
************
Best wishes for a wonderful Birthday and a wonderful year filled with good health and happiness
************
May the coming year bring you good health, happiness and success!

Happy Birthday!
************
Wishing you a fun filled birthday and a wonderful year ahead
Wishing you a day filled with happiness and a year , filled with joy!
************
Another year has come and gone. Its time to celebrate all night long! Happy Birthday!
************
Wishing you a Happy Birthday! May the year bring you continued prosperity, happiness and health!
************
Best Wishes for a wonderful birthday and a year filled with happiness and success!
************
Warmest wishes for a happy birthday on this day and in the days ahead!
************
Happy Birthday! May happiness be yours today and in the year ahead.
************
Have a great birthday. I hope all your wishes come true!
Birthday Card Wording Ideas – Quotes
Try inscribing your friend or loved one's Birthday card with an inspiring quote. A good birthday quote will lift their spirits and give them motivation. Pick out a quote from a favorite author, musician, or star to include in your friend's card. Or, use one of the quotes listed below. 
"We advance in years somewhat in the manner of an invading army in a barren land; the age that we have reached, as the saying goes, we but hold with an outpost, and still keep open communications with the extreme rear and first beginnings of the march." – Robert Louis Stevenson
**************
"Middle age is the time when a man is always thinking that in a week or two he will feel as good as ever." – Don Marquis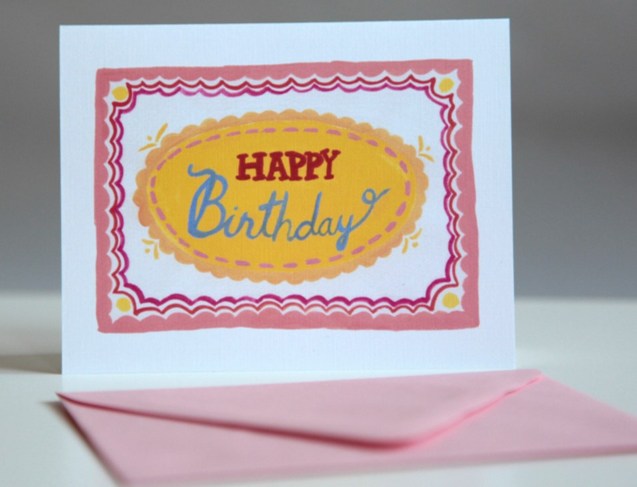 "Our birthdays are feathers in the broad wing of time." – Jean Paul Richter
************
"Birthdays are good for you.  Statistics show that the people who have the most live the longest." – Larry Lorenzoni
*************
"All the world is a birthday cake, so take a piece, but not too much." – George Harrison
************
"Life would be infinitely better if we could be born at the age of eighty, and gradually approach eighteen." – Mark Twain
************
"Those who love deeply never grow old; they may die of old age, but they die young." – A.W. Pinero
Have Fun Celebrating
Hope these wording ideas were helpful to you. Remember to choose your birthday card wording wisely. Birthdays are the perfect time to share your love and gratitude to your friends. Your friends and loved one's will really appreciate well thought out, meaningful birthday card wording. Have fun celebrating! Create a birthday card that your loved one will never forget!
(Visited 14,562 times, 1 visits today)