A bridal shower provides the opportunity to shower the bride with love, best wishes and fabulous gifts. Part of the shower often includes playing fun bridal shower games.Whether practical or whimsical, pick bridal shower games that will help everyone get into the spirit! Good bridal shower games are easy icebreakers to get your guests interacting and relaxing.Whether you are throwing a big bash or hosting an elegant evening for the bride-to-be closest to your heart, you will want to make sure the memory of this special day remains close to her heart for years to come. In addition, your bridal shower invitations should set the tone of the games you will at the party.
Fun Bridal Shower Games and Ideas
Wedding Dress Designers Bridal Shower Games
The guests are divided in to teams of three to five. One of the guests from each team will act as a model. Each team is given three rolls of toilet paper and five paper clips. They then have five minutes to design and create a wedding dress and veil. It is preferable if each team can be out of sight of the other, perhaps in separate rooms. After a set amount of time the teams come back into the main room, to be inspected by the real bride who will judge which is the best wedding dress.
Blushing Bride Jeopardy
Here's a great game to play your next bridal shower. Blushing Bride Jeopardy asks your shower attendees to see how much they know about the bride and all things wedding. I'll take Wedding Cakes for $200…Remember to answer in the form of a question!
Bridal Shower Poem Game
Read this poem aloud to your party for a quick and fun point-scoring game with prizes.
This is a rather peculiar game
It really does not have a name
It's simple to play as a game should be
You just do as you're told, you see
So now if you'll please give me your attention
We'll put an end to this suspension
In the end, whoever scores the most
Will receive a prize of which to boast
Now since you're all fashionable girls
Give yourself 5 if you have any pearls
You may add 3 if your toes peek out
And earrings will give you 2 more to shout
Score yourself 5 if you show any red
Add 6 more for a curl on your head
Now before you think you are going to win
Take away 2 for each safety pin
Give yourself 6 if your pants are tight
Add 1 for a scarf which is just about right
Add 5 more if your shoes are black
And take away 3 for a zipper in back
Now count all your buttons, for each you get 2
And take away 1 for each button that's blue
Give yourself 5 if your heels are high
And why not take 10 for the green in your eye
10 more points for a rose on your clothes
Take away 5 if you forgot to wear hose
If your husband you kissed today – add 9
If you didn't subtract 12 – you're subject to fine
This is the end…there isn't anymore
Who is the lucky lady with the highest score?
Safety Pin Bridal Shower Games
It sounds super easy but it's not… you'll need: bag of rice, safety pins and a blind fold : Directions: fill a large mixing bowl half full with rice (long grain works best) mix in about 50 or so small to medium safety pins. With a blind fold on, have each person try to grab as many pins they can in a 30 second time frame. It's amazing how competitive everyone gets at the bridal shower.
Door Prize
Sure your guests may not want to play involved games, but who doesn't love a present? As your guests enter, have them write down their birthdays and wedding anniversaries (if applicable). The guest whose date is closest to the wedding date wins a prize. The hostess can then copy down the birthdays and anniversaries in a nice birthday book for the bride, so she'll always know when to send a thoughtful card.
Paper Bag Peek-A-Boo
Place all the guests in a circle. Have them place paper bags over their heads. Instruct them to remove everything they're wearing that is not absolutely necessary. The person with the most items off in two minutes wins the prize. When guests begin to remove all kinds of clothing items without realizing you can remove the paper bag, too. All guests that figure this one out before the end of two minutes win a prize.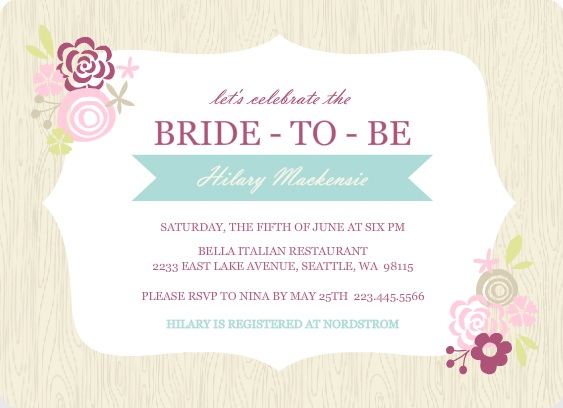 Love Will Melt Your Heart
 Prepare ice cubes by placing a heart-shaped candy in each cube before they freeze. Drop each ice cube into a Dixie cup and distribute to guests. Instruct them that, without touching the ice cube itself, they can use any body part to warm the cup to try and melt the ice. The first person to melt their ice cube enough to retrieve their candy wins the game. Hilarity ensues as guests use various body parts to try to get their ice to melt. Game can run simultaneously while food is being served, etc.
Honeymoon Ramblings
Give each guest a piece of paper and a marker. Have them put the paper on the floor in front of them. Let them then try to bend over and trace their right hand on the paper. However, they must do this without bending their knees at all! While everyone is attempting to do this, have one person record on a piece of paper what everyone is saying. Once everyone is done, announce, "This is what (bride's name) is going to say on her wedding night." Then read all of the responses. Some of the responses might include:
"No way."
"This really hurts."
"This is easier than I thought it would be."
"I can almost reach it."
Bridal Shower Prizes
Winners win for accolades and prizes so here are a few ideas to make it worth their effort
Spa Gift Basket
Bottles of Wine
Fine Chocolates
Mini Photo Frames
Aromatic Candles
Photo Albums
We hope you enjoy our fun bridal shower games. Take any of these ideas and make them your own! Happy celebrating!
(Visited 22,071 times, 1 visits today)