Whether you're a fan of wide-open spaces, nature, rustic charm or all of the above — a barn wedding is right up your alley.
Barns are the perfect place to hold a rustic wedding. Not only do they offer a relaxed atmosphere and plenty of space for guests, but they can also be dressed up or down depending on your tastes.
Plus, they are often built within gorgeous natural settings (fields, forests, or even vineyards) — that will make your wedding photos look amazing! What more could you ask for?
There are a variety of different barn wedding styles and themes, so choosing one that's right for you may be daunting. Here are few barn wedding ideas that you can use to get started.
Barn Wedding Ideas – Rustic Stationery
All weddings start with the stationery. Your save the dates, wedding invitations, and RSVPs will introduce your guests to your rustic theme, so you'll definitely want to find wedding stationery that suits the mood of your wedding perfectly. Browse our collection of beautiful rustic wedding stationery for inspiration and ideas.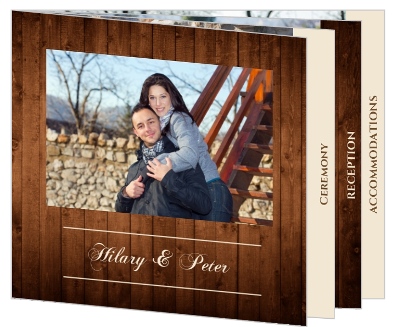 Barn Wedding Ideas – Barrels
Wooden barrels will add to your rustic theme and double as table tops. Setup single barrels throughout your venue. You can decorate them with bouquets of flowers or leave them empty so guests can set their food and drinks on them. Push two or three barrels together and top the set off with a board for a makeshift rustic table that can be filled with food, drinks, and more.
Barn Wedding Ideas – Glass Embellishments
Vintage glass bottles or simple mason jars filled with flowers will add a touch of color and a ton of rustic charm to your barn wedding.
You can also use glass jars to hold candles, wedding favors (mason jar cookie mix wedding favor), dessert (mason jar apple pie), or they can be setup outside for entertainment (ping pong mason jar ball toss game).
Barn Wedding Ideas – Curtains & Tablecloths
Dressing your barn's main doorway with soft drapery will make for a very inviting entrance. You can also use drapery to add color to the interio of your barn and accent archways and wooden beams you find particularly attractive.
In additions to curtains, tablecloths will also soften your space and help create a warm and welcoming atmosphere. Try coordinating your tablecloths with your drapery. Consider choosing a clean color, such as white or pink, and a soft fabric like lace or silk for for a more formal effect.
Barn Wedding Ideas – Lighting
Great lighting will really make your barn wedding look amazing and the best way to achieve this is with plenty of indirect sources of light. Wrapping overhead beams with strings of lights will cast a warm and enchanting glow upon your venue.
Add candle centerpieces to your tables and if there's anyway to bring in hanging lanterns (for an informal event) or even chandeliers (for a formal barn wedding) — do so. Finishing touches such as these will make your barn wedding look extraordinary.
Barn Wedding Ideas – Bales of Hay
Depending on how formal your wedding will be, you may want to consider using bales of hay as seating. To make things more comfortable, cover the bales with soft white fabric. Tie a thick sheet of fabric around the bottom of the bale, like this, for added cuteness and to keep everything in place. Top the bails off with pillows for a more formal look.
Barn Wedding Ideas – Signs
Chalkboard signs, hand-painted wooden signs, or fabric banners are super easy to make and will add volumes of style and chic rustic charm to your big day.
Barn Wedding Photo Ideas
With a charming theme like this your wedding will be a sight to see and remember, so take lots of photos!
Capture the essence and feel of your rustic barn wedding by taking photos in front of pieces that make it unique.
Is the venue set in a gorgeous field, forest, or vineyard? Snap photos in front of it. Are their horses? Take a few shots by them. An old pickup truck outback? Sounds like a perfect backdrop for your wedding photos
Barn Wedding Ideas – Comfort Food
Consider sticking with a country theme and opting for classic american dishes like fried chicken, mashed potatoes, biscuits, apple pie, and lemonade. A tasty spread of comfort food will add to your rustic motif and it will surely be a hit with guests, young and old alike.
Barn Wedding Ideas – Green Favors
Grow ahead of time or purchase potted vegetables, like cucumbers and tomatoes or spices like oregano and basil, and pass them out to guests as party favors. Or, give away organic honey, potted flowers, or packets of seeds. Guests will love the down-to-earth and practical gift.
 Happy Wedding Planning
Good luck planning for your rustic barn wedding! Hopefully you've found these ideas helpful. For more great tips, take a look at the WeddingPaperie Wedding Ideas blog.
(Visited 1,984 times, 1 visits today)