A baby shower tea party is a lovely way to honor the mommy-to-be. There are lots of ways to create a beautiful baby shower tea party. From baby shower invitations to decorations and food; we've put together some inspiration and guidelines to help you throw a magnificent baby shower tea for the special mom-to-be.
A baby shower tea party is an elegant affair with hints of playfulness and refinement. There are a few essential elements to incorporate into the baby shower to make sure your theme is well represented. Put your own stamp on any of these guidelines to make a unique and stylish statement.
Flowers
Beautiful blooms are a must have for a tea theme baby shower. You don't have to have English roses, but beautiful pink blooms mixed with greens and white flowers are always a lovely combination. Going with all white flowers like mums, delphinium, or lily of the valley and pairing them with some beautiful greens is also a nice. Tulips and daffodils are a bright addition to any table too. Especially if the baby shower is in early spring when these flowers are at their best. If you're planning a late July tea party baby shower, white hydrangea would be a great choice. Use flowers on the table as centerpieces or accent place settings with them.
Tea Party Essentials
No paper plates at this baby shower! This is a great opportunity to hit up flea markets and thrift stores to find mix and match China to use. Beautiful cloth or linen napkins are oh so lovely and much more environmentally friendly to use.
Keep it Simple
A baby shower tea party should be kept simple and elegant. You don't need a lot of décor or food. Just a few high quality delectable choices and well placed floral displays will do the trick. Let your mix and match China be part of the décor.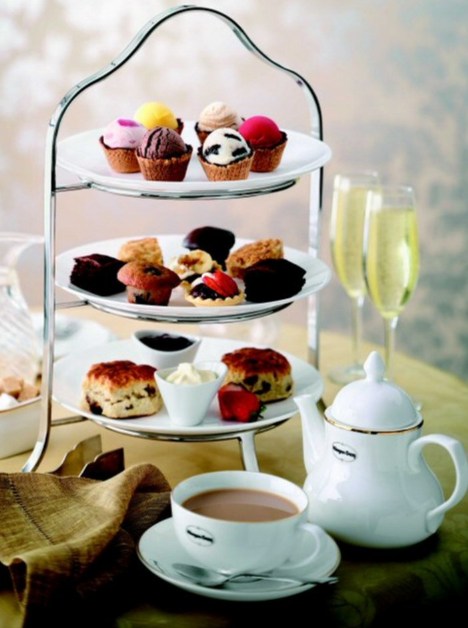 Bite Sized Foods
A bridal shower tea is all about the tea (and the mama-to-be too). Therefore, you don't want to serve lasagna or any big, hearty dish. Think tea sandwiches, madeleines, petit fours, and so on. In the spirit of tradition and all things "ladylike" you'll want to serve food you can eat in a dainty way.
Invitations
The invitations you send are the first peek the guests get into the theme of the party. Choose baby shower tea party invitations that share the colors you want to highlight. Many designs are soft hued. Customize them with all your baby shower details. Send them out about three  weeks before your party date.
Tea
We found a great idea at Martha Stewart Weddings; a brew-your-own-tea-station. You can set up all kinds amazing tea choices with plenty of hot water on hand for steeping. Martha's display had a beautiful collection of fresh herbs like English Lavender and Spearmint leaves for an after meal delight.
If you are hosting a baby shower in the heat of the summer, you can always serve iced tea. There are so many varieties to choose from. Try a raspberry hibiscus or orange blossom honey blend. Make a few bathes of sun tea in a few different flavors and serve them up in tall glasses garnished with lemon slice or a complementary herb spring. Be sure to have a herbal or decaf variety for the mom-to-be.
Food
Food should be kept simple, but flavorful. A mix and match of sweet and savory goes will with tea service.  Try pecan chicken salad on dark rye and orange cardamom madeleines. Fresh scones with a bit of butter and preserves would also be a great addition to any menu. Tea parties often can be dessert heavy. Make sure your food choices are scaled to the time of day that the party is being held. If it's at a mealtime, you'll want to offer more than just desserts.
Party Favors
There are some wonderful options for party favors to fit your baby shower tea party. You don't have to do a lot, just something thoughtful and elegant. Many things you can easily do yourself, without too much effort or cost. Let guests take home some of the floral pieces you've arranged. Fill small vases or old tea tins with blooms for décor and then let guests each take one home. It's the perfect favor because it also doubles as your table decorations.
Send guests home with some of the tea you served at the baby shower. You can create your own tea bags filled with loose tea or use tins. It's a lovely take home gift and it gives the guests a chance to enjoy some of the delicious tea again, and again. Who doesn't love a delicious a party favor? Sending home tea cookies is the perfect way to end a spectacular baby shower. Madeleines, Russian tea cookies, or shortbread jammies are all equally yummy, great choices. Send them home in tea tins, beautiful organza bags, or even kraft boxes wrapped in pretty ribbon.
Hit up local flea markets and gather up vintage tea cups to send home with everyone. Fill them with a tea bag and a cookie for a sweet and thoughtful treat to enjoy later. You can find beautiful mix and match styles and patterns at antique shops, flea markets, and even second hand stores.
Centerpieces and Table Settings
You can go ornate or simple when creating centerpieces for your tables. If already have enough beautiful teacups to serve your tea in, pick up a few more complementary cups and sauces and display them as a centerpiece. Mix in a few bud vases with delicate blooms and you'll have a chic looking table.
Scour vintage markets for tea tins or simply re-purpose the ones you have. Fill them with sweet floral arrangements. Get a variety of tin styles and sizes to display. Make sure they can hold water! You can line them with a plastic bag if needed. Fill them with the flowers that best complement the mom-to-be's style and color preference.
A beautiful display of roses is a classic centerpiece. Choose one or two colors for the main table. Add a single bloom to small bud vases on accent tables, and in the powder room to tie everything together. Add rose petals to plates and saucers for a sophisticated touch. Using white linens can be a nice contrast to all the floral china patterns. Another stylish touch is adding menu cards to the place settings. You can create custom menus easily and inexpensively. Add a spring of lavender or rosemary for a fresh touch.
Enjoy Your Baby Shower Tea Party
A baby shower tea party is a wonderful way to honor the mom-to-be. Be sure to plan the menu with her in mind fill it with any special things she might be craving. Whether you plan elegant and refined baby shower tea or modern shower with a nod to the classic elements, it's a fun theme for an afternoon of celebrating the anticipated arrival of a very special person.
(Visited 3,231 times, 1 visits today)