The 60th birthday is certainly a milestone worth celebrating. It's a time of great reflection as a lot of life has been lived and the family has grown. If you're throwing someone you love a 60th birthday party, shop PurpleTrail's well-designed collection of 60th birthday party invitations ranging from sweet and simple to elegant and sophisticated. Once you've found the right style, it's time to decide on the invitation wording. We've compiled a collection of 60th birthday invitation wording samples to inspire you.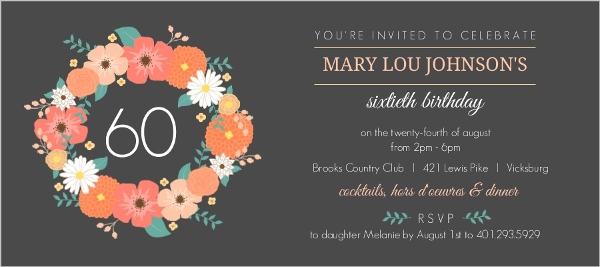 60th Birthday Invitation Wording Ideas
A little birdie whispered in my ear
That this will be Jonathan's 60th year
A celebration is being planned
We hope you'll lend a helping hand
By keeping the festivities a surprise
And coming to the party before he arrives!
**********
There are too many candles and not enough cake! Join us as we celebrate Phil's 60th birthday
**********
60 and going strong! Join as we celebrate the great Joseph Miller
**********
She's got that golden glow because she's turning the big 6-0!
The gift of your presence is requested for a small celebration
**********
Join us as we honor the very special Annie Jacobson on her 60th birthday.
***********
60 years and still going strong. Help us wish Judy a happy birthday!
***********
Join us as we honor Julia, turning 60 years young
***********
Mark is turning 60 – come join in the festivities!
**********
Let's gather to cheers for sixty years
Of goals accomplished and memories made
Then another toast for many more to come
**********
Margaret is turning 60
Her family humbly requests your presence at a celebration in her honor
***********
She has crossed six decades of a very successful life!
Join us as we gather to wish my mother many more years of happiness.
***********
He has always filled our lives with love and celebrated in our victories.
Now it's time to celebrate my dad's 60th year on the planet!
Join us for a fun-filled birthday bash. 
***********
It's never too late to celebrate!
You're invited to Marla's 60th birthday bash.
***********
It's great to celebrate a special milestone in life!
You are warmly invited to a dinner party
Honoring William's 60th birthday.
***********
Mark your calendar for Angela's big day!
Let's send her off to "60" in style.
***********
60 trips around the sun,
but still it seems like life has just begun.
We're honoring Sarah's birthday on June 12th at 8,
but it's a surprise, so please don't be late!
***********
It's Adam's golden birthday!
You're invited to join us as we celebrate his 60th
with an evening of dining and dancing. 
***********
The cake maybe too small,
for 60 candles too many and tall…
Let's just make a bigger one
to make the party more fun!
Come and join us in celebrating Annie's 60th birthday.
***********
We will be lighting 60 candles,
We're not sure if Nick can blow them alone.
Let's help him!
Come to his  60th Birthday bash and show your support.
***********
Mom's turning 60 and she's ready for fun,
let's drink, dance and be merry until she feels 21!
We hope these 60th birthday invitation wording ideas have been helpful. You can put a personal or humorous spin on your party invitations by using one of these 60th birthday quotes and sayings. If the party you're hosting will be a surprise, read up on ideas for surprise milestone birthdays. We hope your guest of honor enjoys their special milestone birthday!
Don't forget to look at 60th birthday cards and birthday guestbooks at PurpleTrail!
(Visited 60,242 times, 26 visits today)